Organic CBD Oil
We believe that cannabis is the world's most important natural remedy. That's why our entire selection of USDA organic CBD oil is derived from naturally sun-grown, Kentucky hemp flowers that are rich in CBD and minor cannabinoids, including up to 0.3% THC. Read FAQ's and watch how they are made.
---
About Our USDA Organic CBD Oil
Extracted from Kentucky-grown USDA organic hemp flowers-only using the organic sugarcane ethanol extraction method. Then blended with organic MCT oil. Certified organic by the Kentucky Department of Agriculture.
Whole Flower: Crafted for nighttime comfort, this cannabidiol CBD oil contains the highest levels of full spectrum cannabinoids, terpenes, and flavonoids. It's most popular for everyday stress and supporting a healthy sleep cycle.*
Max THC | Nighttime* | CBD 22:1 THC
Distilled: Crafted for daytime comfort, this mild and smooth natural hemp flavor CBD oil has the perfect touch of cannabinoids and terpenes to keep you comfortable without slowing you down.*
Low THC | Daytime* | CBD 27:1 THC
USDA certified organic from seed to shelf
Third party lab tests on every single batch
No pesticides, no synthetic fertilizers
No artificial flavoring or preservatives
Sustainably sun-grown in fertile Kentucky soil
Flower-only hemp oil (no stems or leaves)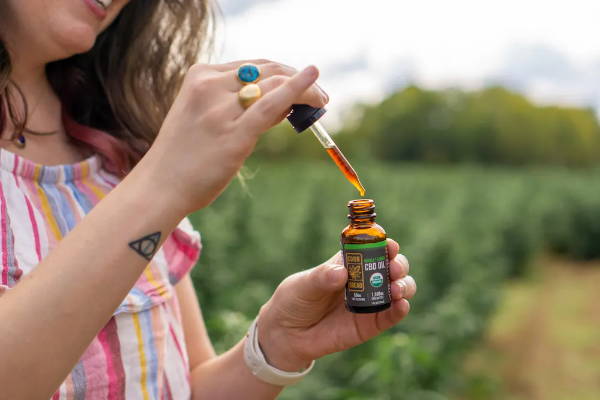 How to Use Organic CBD Oil Drops
Place the desired amount of cannabidiol CBD oil under your tongue using the dropper applicator.
Hold the oil under your tongue for at least 60 seconds, then coat the inside of your mouth.

Absorb as much of the oil as you can before swallowing.

Wait a few minutes to drink or rinse your mouth to allow the full spectrum CBD to absorb.
Each dropper applicator has four equal lines to accurately measure your unique serving size.

Start small - the recommended starter serving is 25mg of CBD per day for adults over 120lbs.

Increase your serving size slowly over the first few weeks until you find the perfect balance.

Depending on why you're taking CBD, some health issues may require higher doses than others.
Our extra strength oils contain 1,500mg of CBD per bottle, with 30 servings of 50mg.

Our original strength oils contain 750mg of CBD per bottle, with 30 servings of 25mg.

Our half size bottles contain 375mg of CBD per bottle, with 15 servings of 25mg.
To skip the sublingual CBD tinctures altogether, check out our selection of CBD capsules, or CBD topicals.
How to Find the Best CBD Oil
We go above and beyond at Cornbread Hemp™ to ensure you are not only satisfied with every purchase, but that you get the best site experience with your full spectrum CBD tincture from beginning to end.
The highest quality CBD oil tinctures contain both CBD and THC, which means they are not made with broad spectrum CBD hemp extracts or pure CBD isolate.
The best CBD brands with the most experience offer CBD oils that have a one year shelf life, which means they use the freshest ingredients and no preservatives.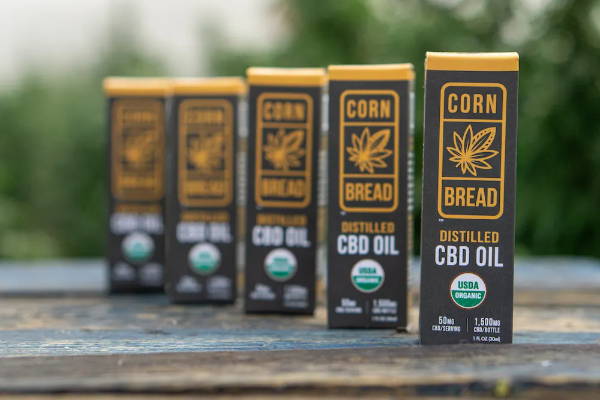 Our Certified Organic Process
Our top-grade USDA organic hemp is sourced from a single family farm in our home-state of Kentucky. With hand-selected hemp genetics for the most wholesome spectrum of cannabinoids and terpenes, our quality begins at the seed of the cannabis plant.
After planting our non-GMO, organic hemp seeds in clean, Kentucky soil, we harvest our hemp at the perfect maturity in order to obtain the most cannabinoid content, both CBD and THC.
The result is the best tasting, all natural CBD oil tincture available, period. CBD gummies are coming soon!
There are no federal regulations in place for CBD oil. As a result, companies can get away with using anything, even substances like synthetic cannabinoids.
Third-party lab tests, or certificates of analysis (COAs), guarantee the safety of the best CBD. Make sure that the test results include potency, pesticides, residual solvents, mycotoxins, microbials, and heavy metals.
Scan the QR code on our USDA organic CBD products to view our lab results that show a healthy and robust spectrum of cannabinoids, plus an abundance of terpenes in their naturally occurring ratios.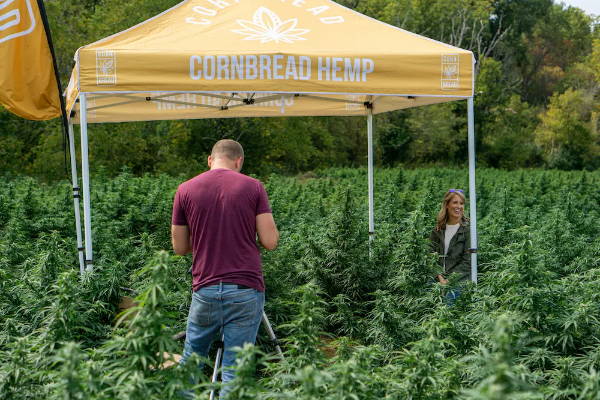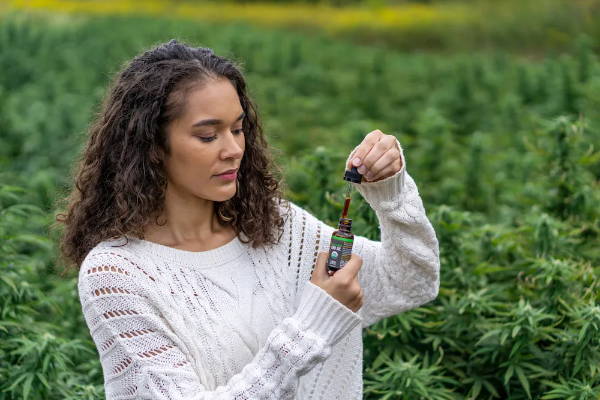 Full Spectrum CBD Oil vs CBD Isolate
In 2015, a team of Israeli scientists published a study on the effects of CBD from hemp plants for inflammation in the Journal of Pharmacology & Pharmacy entitled: "Overcoming the bell-shaped dose-response of CBD by using cannabis extract enriched with CBD.
A sweet spot exists where a patient could feel the effects, but at a higher dose of cannabidiol CBD isolate those effects did not increase. This means that CBD isolate and broad spectrum CBD only work up to a certain dosage for our endocannabinoid system, which includes our cannabinoid receptors and central nervous system.
Is All Organic CBD the Same?