We believe that cannabis is the world's most important natural remedy. That's why our entire selection of USDA organic CBD oil is derived from sun-grown, Kentucky hemp flowers rich in CBD and minor cannabinoids, including up to 0.3% THC. Read FAQ's and watch how they are made.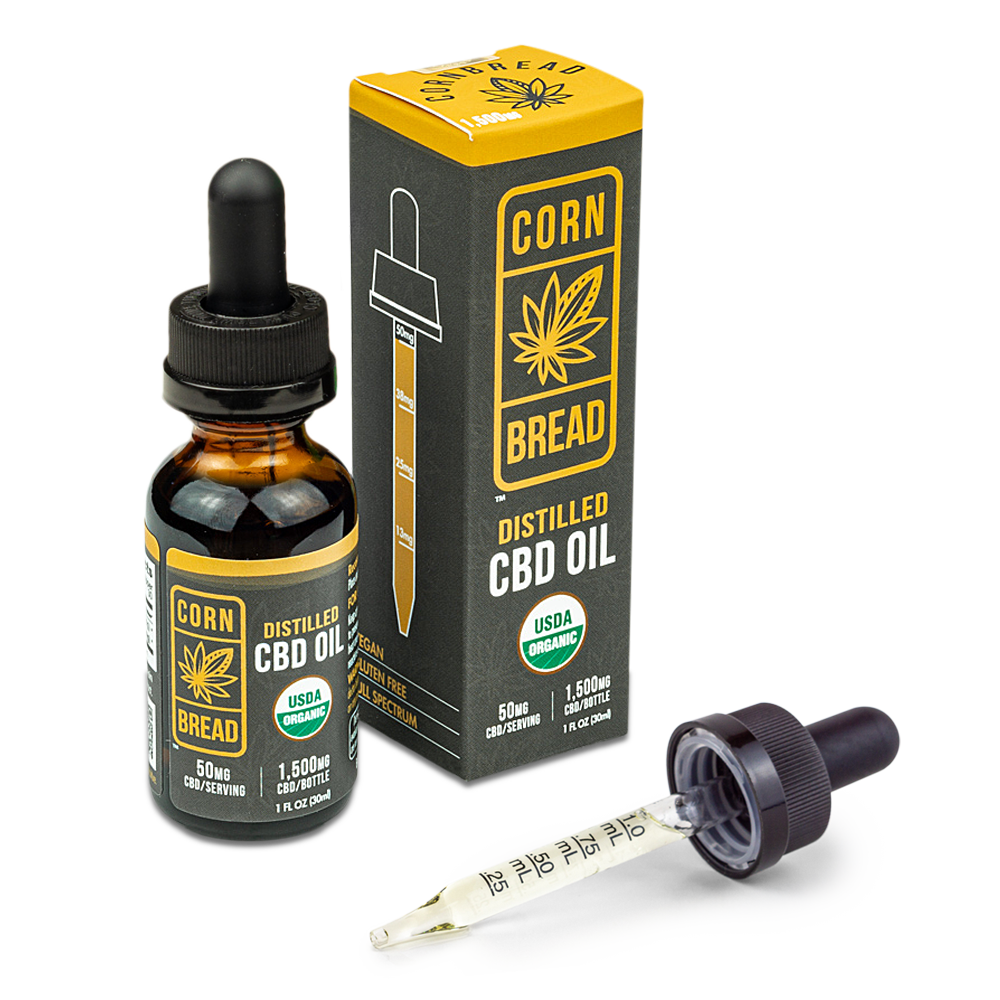 ---
About Our USDA Organic CBD Oil
Cornbread Hemp CBD oils are made under strict USDA organic quality control measures with 100% organic ingredients and absolutely no synthetic fertilizers or pesticides.
Whole Plant Formula: Crafted for nighttime comfort, this formula contains the highest levels of full spectrum cannabinoids, terpenes, and flavonoids. It's most popular for everyday stresses and supporting a healthy sleep cycle.*
Distilled Formula: Crafted for daytime comfort, this mild and smooth tasting CBD oil has the perfect touch of full spectrum cannabinoids and terpenes to keep you comfortable during the day.*
Simple, Organic Ingredients
We use only two simple ingredients and never any preservatives, flavoring, or fillers. That's why our CBD oils expire after one year.
USDA ORGANIC | LAB TESTED | FULL SPECTRUM
USDA certified organic from seed to shelf
Third party lab tests on every single batch
No pesticides, no synthetic fertilizers
No artificial flavoring or preservatives
Sustainably sun-grown in fertile Kentucky soil
Flower-only hemp oil (no stems or leaves)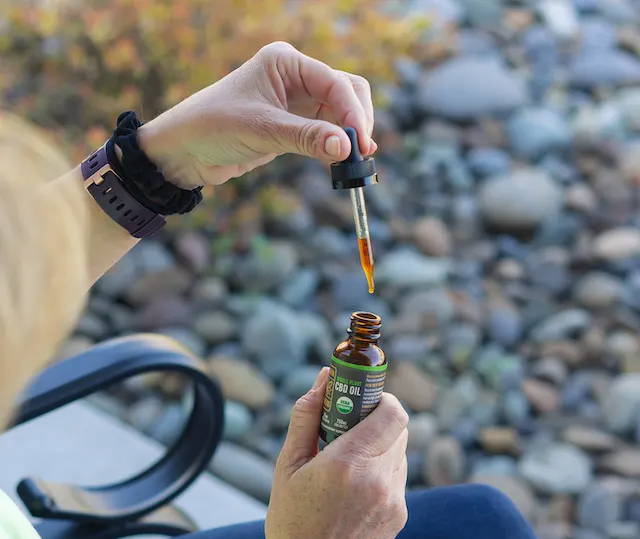 Cornbread Hemp™ organic CBD oils can be taken throughout the day and at night, depending on when you need relief. We recommend starting small and increasing slowly to find which formula and dose works best for your individual needs.
Each applicator dropper has four equal lines to accurately measure your unique serving size. Simply place the oil under your tongue, hold it for at least 60 seconds, and coat the inside of your mouth with the remaining oil.
To skip the sublingual oil altogether, check out our selection of CBD capsules, or for direct application, browse our CBD topicals.
Store your CBD oil away from heat and light, and in a cool, dry place. If it gets too hot or freezes, you could damage the quality of the natural hemp extract.
Authentic CBD oils aren't cheap. With organic CBD especially, extreme care should be taken to safely store it and preserve the quality, taste, and efficacy.
Your medicine cabinet or pantry is the best CBD oil storage area. Just make sure to fully tighten the lid on the bottle to activate the child safe cap.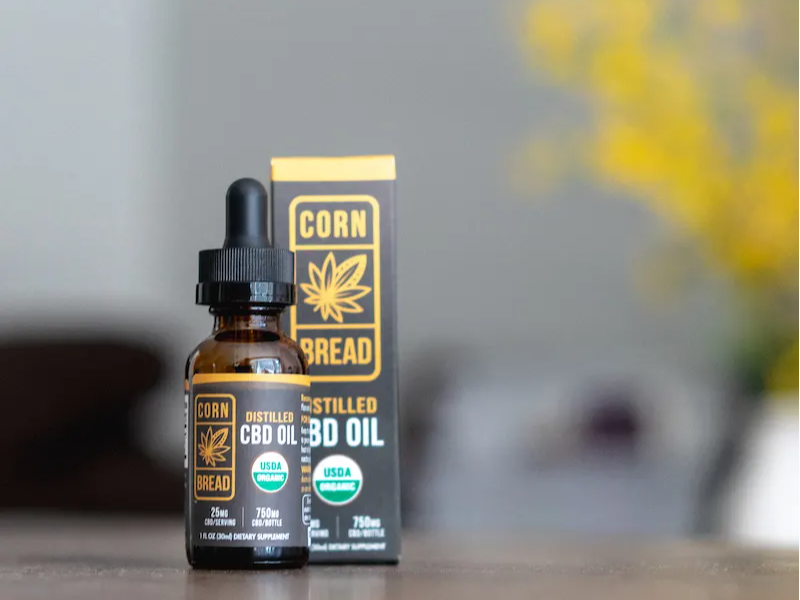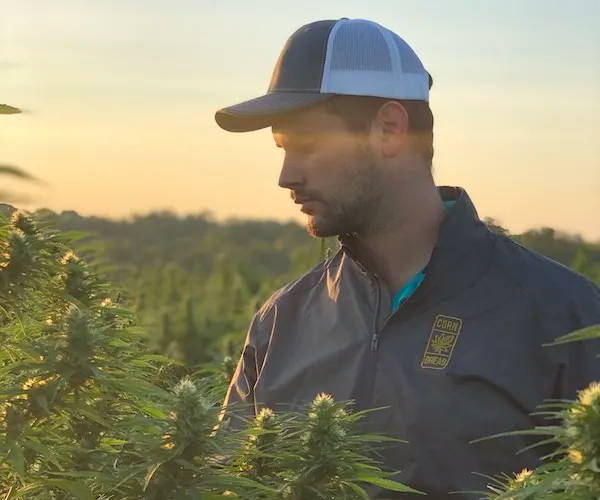 Our Certified Organic Process
Our top-grade USDA organic hemp is sourced exclusively from a single family farm in Kentucky. With hand-selected hemp seeds for the most wholesome spectrum of cannabinoids and terpenes, our quality commitment begins at the seed.
After planting our non-GMO, organic hemp genetics in clean, Kentucky soil, we harvest them at the perfect maturity to obtain the highest legal levels of cannabinoids.
After harvest, we separate the CBD-rich flowers from the hemp plant before we begin our organic sugarcane ethanol extraction process. The result is the best tasting, all natural CBD oil available, period.
Is all organic CBD the same?
Cannabidiol CBD oil is made by taking hemp plants with a high CBD content and a low THC content (not more than 0.3%) and extracting hemp oil using a solvent, usually ethanol or CO2. This hemp extract is then mixed with a carrier oil, like coconut MCT oil or hempseed oil. Full spectrum CBD oil contains about 150 different cannabinoids that work in tandem with our endocannabinoid system to help maintain balance and homeostasis in the human body.
Why choose organic CBD oil?
CBD oil that has been certified organic must be grown without any synthetic fertilizers, pesticides, or other non-organic materials. Additionally, an organic crop rotation is required to replenish vital nutrients back into the soil. This ensures that organic CBD oil will be free of any harmful elements, and that the farmland used to harvest it will be sustainable for the years to come.
How do you use a CBD tincture?
Start by administering a small amount of CBD oil sublingually, which means "under the tongue." Just squeeze the rubber end of the dropper and allow the oil to sit in your mouth for at least 60 seconds. The goal is to absorb as much of the phytocannabinoid and terpene content as you can before swallowing. For the best results, coat your tongue and gums with the oil before you swallow.
How much CBD oil should you take?
The answer to how much CBD should I take depends on factors like body weight, metabolism, and why you use CBD oil. To keep things simple, start at a dose of 25mg per day and work your way up. Someone using CBD for recurring discomfort or other serious health issues will need a higher dose than for someone who is taking a CBD extract for everyday stresses.
How long does CBD oil take to work?
How long CBD takes to work depends upon the severity of the issues you are trying to relieve. Those who are suffering from everyday stresses may experience relief much quicker than someone taking CBD for a more serious issue. Generally speaking, hemp-derived CBD products take 2-3 weeks to begin to produce health benefits. To learn more about how long CBD takes to work, watch this quick video from Dr. Leslie Mudd, PharmD!
Can CBD drops make you high?
No, CBD oil does not get you high, even though it comes from the cannabis plant and contains a trace amount of THC. CBD works to bring the body into homeostasis by activating the CB2 receptors in the endocannabinoid system. THC, the cannabinoid that gets you high, mostly interacts with CB1 receptors in the brain. Although our full spectrum CBD oils contain up to 0.3% THC, this is not nearly enough to be intoxicating.
Is it legal to send CBD oil in the mail?
Yes! The Farm Bill of 2018 federally legalized any cannabis product that contains less than 0.3% THC. All of our products are made with legal, compliant, Kentucky-grown hemp that has been certified organic by the United States Department of Agriculture. All of our products ship via USPS, a federal organization that openly supports hemp-derived CBD shipments. For questions about shipping and returns, visit our FAQ's page.
Are Cornbread Hemp™ CBD products third party lab tested?
Absolutely! We never use any hemp oil or CBD extract in our formulation until we know that it is 100% free of pesticides, heavy metals, residual solvents, and microbial contaminants like bacteria and mycotoxins. You have access to our entire library of third-party CoA lab reports when visiting our lab reports page.
Is a CBD tincture different from CBD oil?
A traditional tincture is made using alcohol to suspend the extract instead of a carrier oil. Cannabinoids are fat soluble, and therefore should be blended with oils that contain a high level of triglycerides. Because of their sublingual applications, the terms CBD oil vs CBD tincture are often used interchangeably. Many people refer to CBD oils as "tinctures." To avoid confusion, make sure to read the label carefully to understand what you are purchasing.
* These statements have not been evaluated by the Food and Drug Administration. These CBD tinctures are not intended to diagnose, treat, cure, or prevent any disease. Cornbread Hemp does not provide medical advice. Cornbread Hemp's top quality CBD products are only available for sale within the United States and contain no more than 0.3% THC.
---
How to Find the Best CBD Oil
Shopping for the best CBD oil can be tricky with so many options and not enough information. That's why we go above and beyond at Cornbread Hemp to ensure you are not only satisfied with every purchase, but that you get the best CBD experience from beginning to end.
The best CBD oils come from the best CBD companies, so here are a few tips to follow when shopping for CBD oil or any other CBD products online.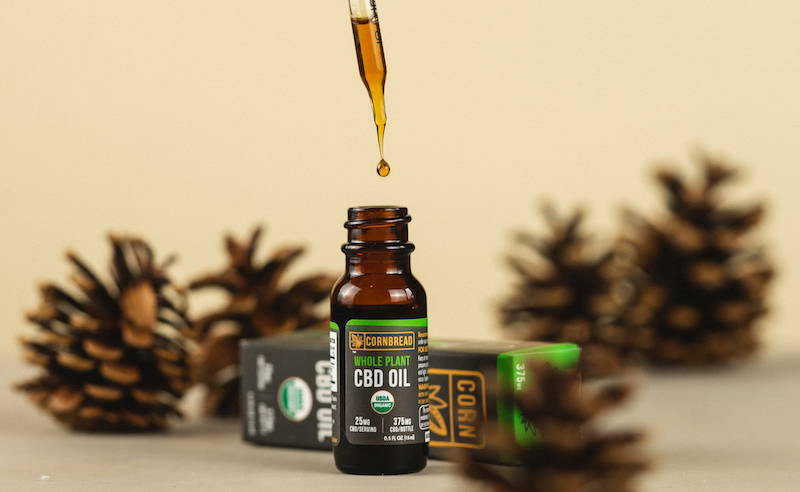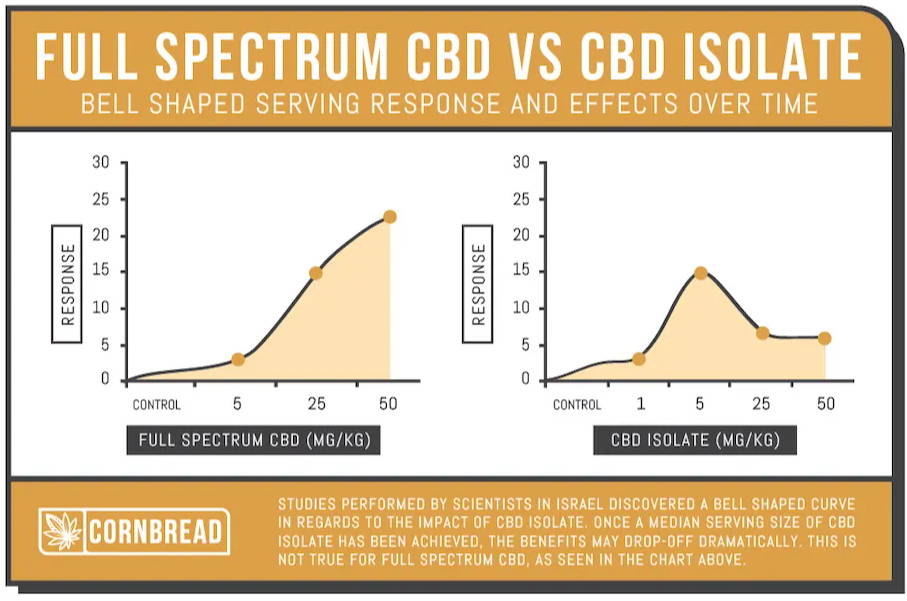 Full Spectrum CBD Oil vs CBD Isolate
In 2015, a team of Israeli scientists published a study on the effects of CBD for inflammation in the Journal of Pharmacology & Pharmacy entitled: "Overcoming the bell-shaped dose-response of CBD by using cannabis extract enriched with CBD.1
A sweet spot exists where a patient could feel the effects, but at a higher dose of CBD isolate those effects did not increase. That is the "bell-shaped dose-response"2 in the title. This means that CBD isolate only works to a certain dosage, but then higher doses do not yield better results.3
There are no federal regulations in place for CBD oil production. As a result, CBD companies can get away with putting just about anything in their products, even harmful substances like synthetic cannabinoids.
Third-party lab tests, or certificates of analysis (COAs), guarantee the safety of the best CBD oils. You should make sure that the tests include results for potency, pesticides, residual solvents, mycotoxins, microbials, and heavy metals. Not sure how to read them? Learn how to read a certificate of analysis.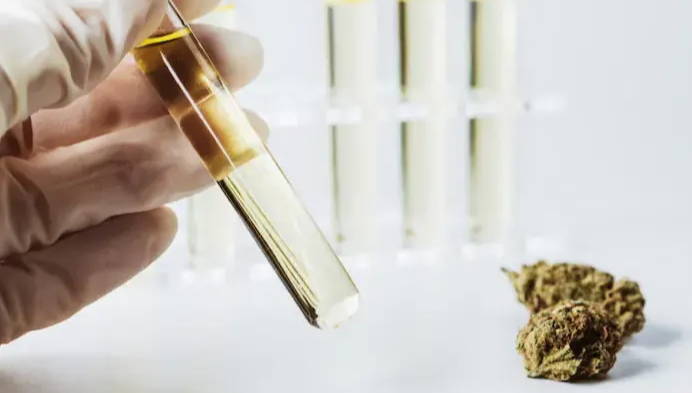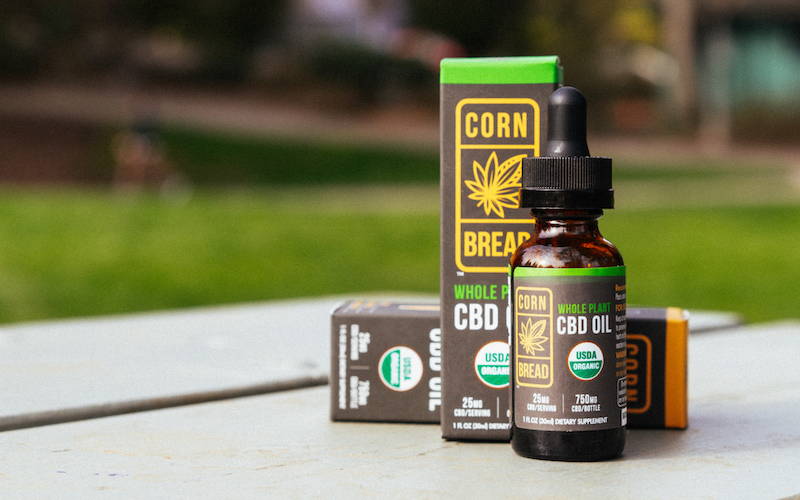 Certified Organic vs 'Organically Grown'
In order to carry the USDA certified organic seal, every ingredient and every step of the manufacturing process must meet the USDA's federal standards. This includes many factors like using no pesticides or synthetic fertilizers, the soil quality, and regenerative farming practices.
CBD products that say "organically grown" or "organic" without also displaying the USDA organic seal have not been verified for these critical standards. So always look for the USDA organic seal on the CBD products you buy.4
| | | |
| --- | --- | --- |
| | | |
| | | Gallily, R. , Yekhtin, Z. and Hanuš, L. (2015) Overcoming the Bell-Shaped Dose-Response of Cannabidiol by Using Cannabis Extract Enriched in Cannabidiol. Pharmacology & Pharmacy, 6, 75-85. doi: 10.4236/pp.2015.62010. 'title' |
| | | Gallily, R. , Yekhtin, Z. and Hanuš, L. (2015) Overcoming the Bell-Shaped Dose-Response of Cannabidiol by Using Cannabis Extract Enriched in Cannabidiol. Pharmacology & Pharmacy, 6, 75-85. doi: 10.4236/pp.2015.62010. Under results section, page 78, 1st paragraph, 7th sentence |
| | | Usda.gov. 2020. Organic 101: What The USDA Organic Label Means. [online] Available at: Accessed July 6, 2020. 2nd paragraph |