It's never been more important to understand the different types of CBD products. That's especially true as you learn the difference between broad spectrum vs full spectrum CBD. People often ask us: "Which is better between full spectrum CBD and broad spectrum CBD oil?" This is a question that revolves around the THC content of your CBD infused product.
Frequently asked questions on the same topic include: "Do your products contain THC?" and "Are your products THC-free?" It's important to understand how types of CBD are different so that you can make informed buying decisions. We are here to help you learn which type of CBD oil you should be considering.
CBD Full Spectrum vs CBD Broad Spectrum vs Isolate
Before we answer which type of CBD oil is better, let's get some base definitions of each type of CBD product:
Full spectrum CBD oils contain all of the cannabinoids present in the cannabis plant used to make the oil, in their natural ratios. They typically contain all of the natural hemp plant compounds including minor cannabinoids, flavonoids and terpenes.1 In other words, this is as close to consuming the actual hemp plant as you can get. These oils contain trace amounts of THC, but not enough to have any psychoactive effects.
Broad spectrum CBD oils have all of the cannabinoids except for THC.2 Some production methods start with a full spectrum CBD oil and remove the THC content. Other methods begin with a CBD isolate, then they reintroduce other cannabinoids minus THC. Either way, creating a broad spectrum CBD oil denatures the hemp extract from its original natural construction.
CBD isolate is a white crystalline powder made of 99+ percent pure CBD. It can be mixed into different products or taken by itself. Isolate CBD products in their purest form have no other natural plant properties. The refinement process involved in making an isolate CBD requires extra steps in a laboratory after the initial extraction process. The extreme processing makes it unrecognizable as a plant-sourced product, and the end result looks similar to conventional sugar or table salt.
Why We Only Use Full Spectrum CBD
At Cornbread Hemp, we only offer full spectrum CBD products with all the cannabinoids including CBD, CBN, CBG, and CBC. All of our products contain a dose of tetrahydrocannabinol THC that is legal under federal law.3 We believe that products containing all of the cannabinoids work better than broad spectrum and isolates, and we refuse to put our name on an inferior product.
Despite the fact that hemp-derived THC is legal as long as it constitutes no more than 0.3% of dry-weight basis of the product,4 many people who want to try CBD are still apprehensive about it. They worry that they may get "high" from using CBD oil. But don't worry, these products are not going to cause intoxicating effects with such a small amount of THC.
One group of CBD consumers interested in THC-free products are those who have drug tests hanging over their heads at work. Everyone should be able to use any type of CBD product that is legal under federal law.5 But certain aspects of society remain stuck in the past. Eventually, human resource departments will warm up to CBD products in the workplace. Until then, the issue of employer mandated drug tests remains a challenge for hemp reform -- and for CBD consumers looking for the best CBD oils or tinctures for them.
Broad spectrum vs full spectrum CBD Chart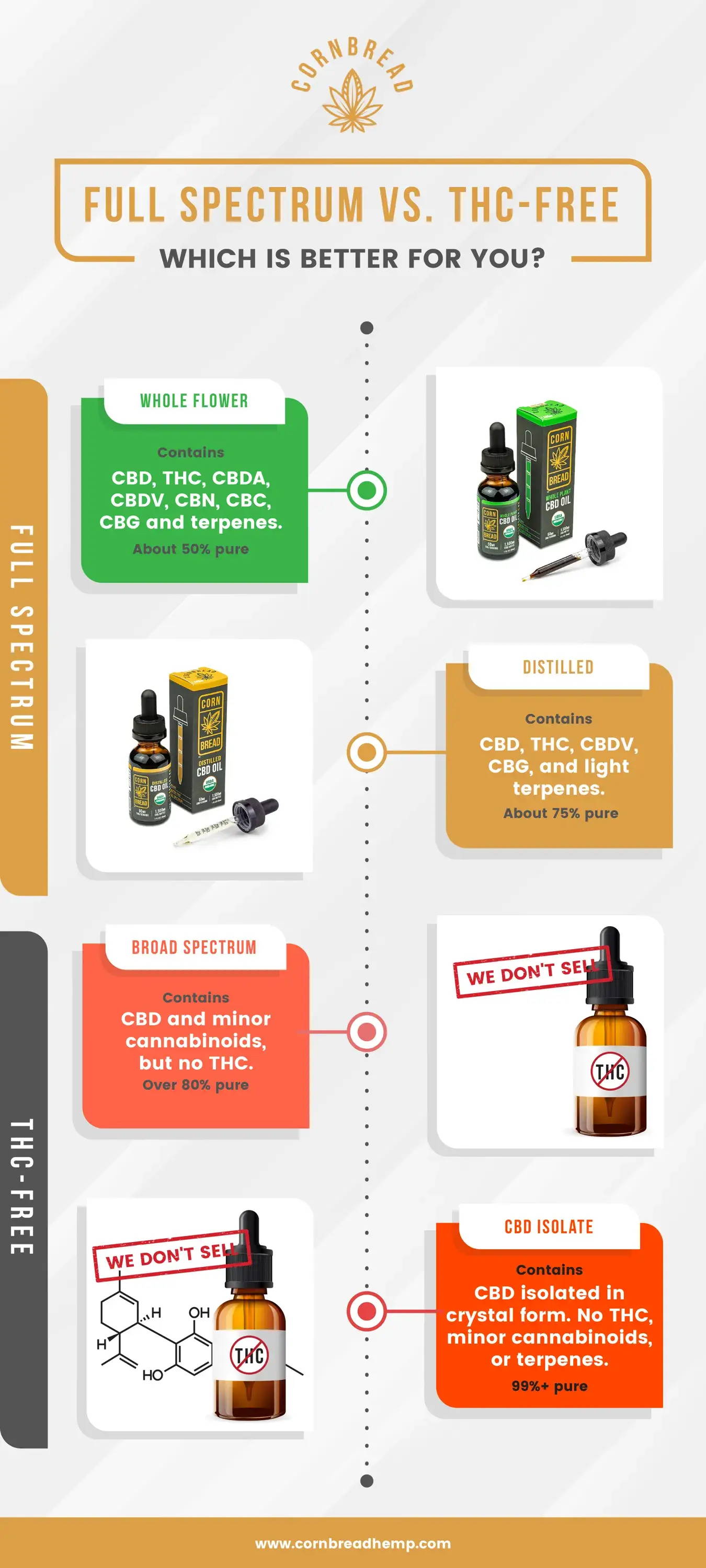 What is Full Spectrum CBD?
Don't just take our word for it! We interviewed a number of experts in the CBD industry who gave us their thoughts on the different types of CBD. Below, you can read their comments, which are exclusive to the Cornbread Hemp blog.
Full spectrum CBD Is Worth the Price
John White is the founder and CEO of CNBS.org, an educational website devoted to all things cannabis. His site does not sell a house brand, so "we love whatever sells the most each particular month," John told us.
In John's experience, best-sellers in the CBD industry are not always tied to price. In fact, they rarely are. "Price doesn't always tell the full story… in the case of broad spectrum vs full spectrum CBD" John said.
"Full spectrum CBD products are more expensive because it maximizes [the potential] of cannabis. It literally brings the full entourage effect,"6 John told us. "It helps maximize CBD oil's effects as a result of the hundreds of compounds within the cannabis plant interacting with the body."7
"If I don't have cannabis on hand, I reach for the full spectrum," John said, candidly, "as it's the closest thing to it."
The entourage effect8 that John talks about is the effect of cannabinoids on the endocannabinoid system, or the ECS. This is a recently discovered network of receptors that exist in all animals. These receptors react to endocannabinoids produced by the body to help bring balance. The cannabis plant produces similar molecules called phytocannabinoids.
Since the discovery of the ECS, it's become more common to supplement your ECS with phytocannabinoids in the form of CBD oil.9 Studies show that using all of the compounds from the cannabis plant is the most effective, rather than CBD isolated by itself.10
Full Spectrum CBD Oil and Drug Tests
Cameron Pullano is a representative of Greeny, which is an online CBD marketplace. Greeny sells multiple brands in its web store with full spectrum CBD and broad spectrum CBD varieties. Here's his thoughts on deciding between the two:
"For a consumer who's looking to decide between full spectrum and broad spectrum CBD products, it really depends on your own personal circumstances," Cameron said. "I would say that the most common deciding factor for these two choices would be the likelihood of being drug tested."
"Unfortunately, even in many states where cannabis is legal for medical or recreational use, drug testing is a common requirement for employment… Because full spectrum contains trace amounts of THC, which is what separates hemp from marijuana, it's not an appropriate choice for people in that kind of situation," Cameron said, reflecting the sad reality that mandatory THC workplace drug tests prevent millions of Americans from using legal full spectrum CBD products.
"For just about anyone else, though, we would recommend full spectrum CBD over broad spectrum CBD, due to the way that cannabinoids interact with each other to enhance the effects of the product," Cameron told us.
Using CBD and Testing Negative for THC
David Kranker, a writer at Green Wellness echoed the sentiments of Cameron from Greeny.
"We see a greater impact in keeping the product closer to that plant in the ground. That would be a full spectrum," David told us. "That entourage effect of all the cannabinoids working together provides a greater benefit11 with less product in terms of active milligrams."
"Creating a broad spectrum CBD oil isn't simply removing THC. All the cannabinoids are broken apart and put back together… taking you a little further from the plant in the ground," David said.
"At the end of the day, though, we always say that the best CBD is the one you'd be willing to actually take. If someone needs to steer clear of THC, we certainly wouldn't want them to write off the whole [hemp] plant altogether."
The Entourage Effect and CBD Full Spectrum Products
Evan Borowiac is from Ministry of Hemp, which is a leading online publisher in the hemp advocacy space. They have worked with dozens of CBD businesses over the past few years.
"Overall, we're proponents of full spectrum CBD oil," Evan told us. "The hemp plant contains hundreds of different phyto-chemicals including cannabinoids, terpenes, and other compounds.12 While there is still more research to be done, there are indications that show cannabinoids and terpenes work together to influence each other.13 This has specifically been shown between CBD and THC, which are obviously the two most well known compounds from hemp."
Like our other experts, Evan sees the need for inferior CBD broad spectrum products and pure CBD isolates exists solely because of the realities of workplace drug testing: "Yet, we also recognize that we live in a society that still puts a lot of restrictions around THC, especially at the workplace," Evan said.
Full Spectrum vs CBD Isolate
"Many people may come under the impression that CBD isolates are superior to both broad spectrum CBD and full spectrum CBD products, since CBD isolate is just CBD in its purest form," Dr. Kasey Nichols of Rave Reviews told us. "The problem with CBD isolates lies in precisely what makes CBD isolates appealing, namely that they are products that contain only cannabidiol.14 The inclusion of other cannabinoids along with CBD has been shown to exhibit an 'entourage effect,' in which properties emerge that are not found in products containing pure CBD."15
The Best Full Spectrum CBD Products
When shopping for CBD hemp oil, it's important to make sure you are getting a high quality product that is safe and legal. Make sure there are easily accessible third-party lab tests that confirm the product's cannabinoid content for potency and the THC content for legality. The legal percentage to look for is less than 0.3 percent delta-9 THC by dry weight. Also, make sure to avoid any products labeled as hemp oil instead of CBD oil, as they are usually just a blend of hemp seed oil and coconut oil that doesn't actually contain any cannabinoids.
A USDA certified organic seal is the best thing to look for when shopping for any type of CBD product. Cornbread Hemp is the first company to offer USDA organic CBD oils made from Kentucky-grown hemp. This means we only use organic hemp and organic extraction methods to make our hemp extracts. To finish it off, we use organic MCT coconut oil as a carrier oil. It is the perfect vehicle to deliver CBD and essential fatty acids into the body because of its quick absorption rate.
Instead of using the entire plant for our hemp extract, we only use the hemp cannabis flower. The flowers contain the most CBD compounds, ensuring that every Cornbread Hemp CBD product is as potent and effective as possible. That's how we make the best CBD gummies and CBD capsules in America.
We've dedicated ourselves to embracing and presenting the cannabis plant in its purest form -- a beneficial herb that has impacted humanity throughout history. Our selection offers consumers a safe and legal full spectrum cannabis experience.
Full Spectrum vs Broad Spectrum CBD: Conclusions
The consensus CBD fact among experts appears to be that full spectrum CBD products are more effective than broad spectrum CBD products or other THC-free CBD products like those made from CBD isolate.16 But some people simply cannot take full spectrum hemp CBD products because of the risk of losing their jobs if they test positive for THC. In those cases, broad spectrum CBD and CBD isolates may be the only cannabis option available to them -- unless they get permission in writing from their human resources department to take full spectrum CBD oil.
Until employers in the United States make changes to their drug testing policies, there will always be a niche for THC-free products. However, at Cornbread Hemp we focus on quality and effectiveness. Therefore, all our products contain a legal amount of THC, or not more than 0.3 percent. Plus, we've got the third party lab reports to prove potency on every single batch.
It isn't fair that employment drug testing keeps some people from experiencing the health benefits of a legal product like organic full spectrum CBD oil. We hope that one day soon, workplaces repeal unnecessary drug test policies that discriminate against those who rely on the cannabis plant. Until then, consumers must be attentive of what type of CBD product they purchase, and keep the risks in mind.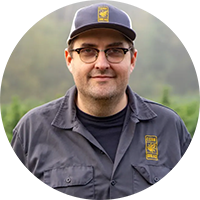 About the Author
Jim Higdon, Co-founder
a native of Lebanon, Kentucky. He holds degrees from Centre College, Brown University, and Columbia University's Graduate School of Journalism. Jim published Cornbread Mafia in 2012, full author bio here.
Why would a person want to take CBD isolate?
While CBD isolate is not as effective as full spectrum CBD, some people may choose it for an important reason: drug tests. Many drug tests test for THC and even small amounts can show up.
Why would a person want to take broad spectrum CBD?
Broad spectrum CBD has the THC removed like CBD isolate. This is appealing to people who have to undergo drug tests for work, sports, or legal reasons. However, sometimes with broad spectrum this is imprecise. Check lab reports.
Why is having a little THC with your CBD a good thing?
"The entourage effect" means that CBD together with THC works better than CBD alone. This is also true for other cannabinoids, flavonoids, and terpenes in hemp plant; they all make CBD more effective.
1. Jones, I., 2020. Full-Spectrum Cannabis Extracts VS CBD Isolate | Fundación CANNA: Scientific Studies And Cannabis Testing. [online] Fundacion-canna.es. Available at: https://www.fundacion-canna.es/en/full-spectrum-cannabis-extracts-vs-cbd-isolate Accessed August 03, 2020. 3rd paragraph, 4th sentence and 4th paragraph, 1st sentence
2. Jones, I., 2020. Full-Spectrum Cannabis Extracts VS CBD Isolate | Fundación CANNA: Scientific Studies And Cannabis Testing. [online] Fundacion-canna.es. Available at: https://www.fundacion-canna.es/en/full-spectrum-cannabis-extracts-vs-cbd-isolate Accessed August 03, 2020. 3rd paragraph, 4th sentence
3. Hudak, J., 2018. The Farm Bill, Hemp Legalization And The Status Of CBD: An Explainer. [online] Brookings. Available at: https://www.brookings.edu/blog/fixgov/2018/12/14/the-farm-bill-hemp-and-cbd-explainer/ Accessed August 03, 2020. 2nd paragraph, 2nd sentence
4. Hudak, J., 2018. The Farm Bill, Hemp Legalization And The Status Of CBD: An Explainer. [online] Brookings. Available at: https://www.brookings.edu/blog/fixgov/2018/12/14/the-farm-bill-hemp-and-cbd-explainer/ Accessed August 03, 2020. 2nd paragraph, 2nd sentence
5. Hudak, J., 2018. The Farm Bill, Hemp Legalization And The Status Of CBD: An Explainer. [online] Brookings. Available at: https://www.brookings.edu/blog/fixgov/2018/12/14/the-farm-bill-hemp-and-cbd-explainer/ Accessed August 03, 2020. 2nd paragraph, 2nd sentence
6. Jones, I., 2020. Full-Spectrum Cannabis Extracts VS CBD Isolate | Fundación CANNA: Scientific Studies And Cannabis Testing. [online] Fundacion-canna.es. Available at: https://www.fundacion-canna.es/en/full-spectrum-cannabis-extracts-vs-cbd-isolate Accessed August 03, 2020. 5th paragraph, 3rd and 4th sentence
7. Jones, I., 2020. Full-Spectrum Cannabis Extracts VS CBD Isolate | Fundación CANNA: Scientific Studies And Cannabis Testing. [online] Fundacion-canna.es. Available at: https://www.fundacion-canna.es/en/full-spectrum-cannabis-extracts-vs-cbd-isolate Accessed August 03, 2020. 5th paragraph, 3rd and 4th sentence
8. Jones, I., 2020. Full-Spectrum Cannabis Extracts VS CBD Isolate | Fundación CANNA: Scientific Studies And Cannabis Testing. [online] Fundacion-canna.es. Available at: https://www.fundacion-canna.es/en/full-spectrum-cannabis-extracts-vs-cbd-isolate Accessed August 03, 2020. 5th paragraph, 3rd sentence
9. Uclahealth.org. 2020. Human Endocannabinoid System - UCLA Cannabis Research Initiative - Los Angeles, CA. [online] Available at: https://www.uclahealth.org/cannabis/human-endocannabinoid-system Accessed August 03, 2020. 1st paragraph, 1st and 2nd sentence
10. Russo E, Guy GW. A tale of two cannabinoids: the therapeutic rationale for combining tetrahydrocannabinol and cannabidiol. Med Hypotheses. 2006;66(2):234-246. doi:10.1016/j.mehy.2005.08.026. Under 'conclusion' section, 1st paragraph, 2nd sentence
11. Jones, I., 2020. Full-Spectrum Cannabis Extracts VS CBD Isolate | Fundación CANNA: Scientific Studies And Cannabis Testing. [online] Fundacion-canna.es. Available at: https://www.fundacion-canna.es/en/full-spectrum-cannabis-extracts-vs-cbd-isolate Accessed August 03, 2020. 5th paragraph, 3rd and 4th sentence
12. Jones, I., 2020. Full-Spectrum Cannabis Extracts VS CBD Isolate | Fundación CANNA: Scientific Studies And Cannabis Testing. [online] Fundacion-canna.es. Available at: https://www.fundacion-canna.es/en/full-spectrum-cannabis-extracts-vs-cbd-isolate Accessed August 03, 2020. 4th paragraph, 1st sentence
13. Jones, I., 2020. Full-Spectrum Cannabis Extracts VS CBD Isolate | Fundación CANNA: Scientific Studies And Cannabis Testing. [online] Fundacion-canna.es. Available at: https://www.fundacion-canna.es/en/full-spectrum-cannabis-extracts-vs-cbd-isolate Accessed August 03, 2020. 5th paragraph, 3rd and 4th sentence
14. Jones, I., 2020. Full-Spectrum Cannabis Extracts VS CBD Isolate | Fundación CANNA: Scientific Studies And Cannabis Testing. [online] Fundacion-canna.es. Available at: https://www.fundacion-canna.es/en/full-spectrum-cannabis-extracts-vs-cbd-isolate Accessed August 03, 2020. 3rd paragraph, 4th sentence
15. Jones, I., 2020. Full-Spectrum Cannabis Extracts VS CBD Isolate | Fundación CANNA: Scientific Studies And Cannabis Testing. [online] Fundacion-canna.es. Available at: https://www.fundacion-canna.es/en/full-spectrum-cannabis-extracts-vs-cbd-isolate Accessed August 03, 2020. 5th paragraph, 3rd and 4th sentence
16. Gallily, R. , Yekhtin, Z. and Hanuš, L. (2015) Overcoming the Bell-Shaped Dose-Response of Cannabidiol by Using Cannabis Extract Enriched in Cannabidiol. Pharmacology & Pharmacy, 6, 75-85. doi: 10.4236/pp.2015.62010. Under results section, page 78, 1st paragraph 7th sentence
---