CBD for Pets
For those furry friends who might not like the taste of CBD oil, we created our Distilled CBD Oil for Pets with all natural corndog flavoring. Made exclusively from organically-grown Kentucky hemp, our pet formula is third party lab tested for pesticides, heavy metals, residual solvents, and more. Read FAQ's and watch how it's made.
Buy CBD Oil for Dogs and Cats
---
Organic CBD Oil for Dogs and Cats
Cornbread Hemp™ CBD oil for pets is made with USDA organic hemp that is grown sustainably outdoors in Kentucky sunshine. Hand-harvested at the perfect maturity, our hemp contains the highest levels of full spectrum cannabinoids, with no more than 0.3% THC.

As with all of our full spectrum CBD products, our organic CBD oil for dogs and cats has been third party lab tested for pesticides, heavy metals, and more.
All Natural, Pet-safe Ingredients
We never allow preservatives or any other synthetic ingredients to be used in our CBD oil formulations. Instead, we use three simple ingredients: organic hemp extract, organic medium chain fractionated coconut oil, and our proprietary vegan corndog flavoring.
LAB TESTED | FULL SPECTRUM | ORGANIC INGREDIENTS
No pesticides, no synthetic fertilizers
No preservatives, vegan ingredients only
Sustainably sun-grown in fertile Kentucky soil
Third party lab tests on every single batch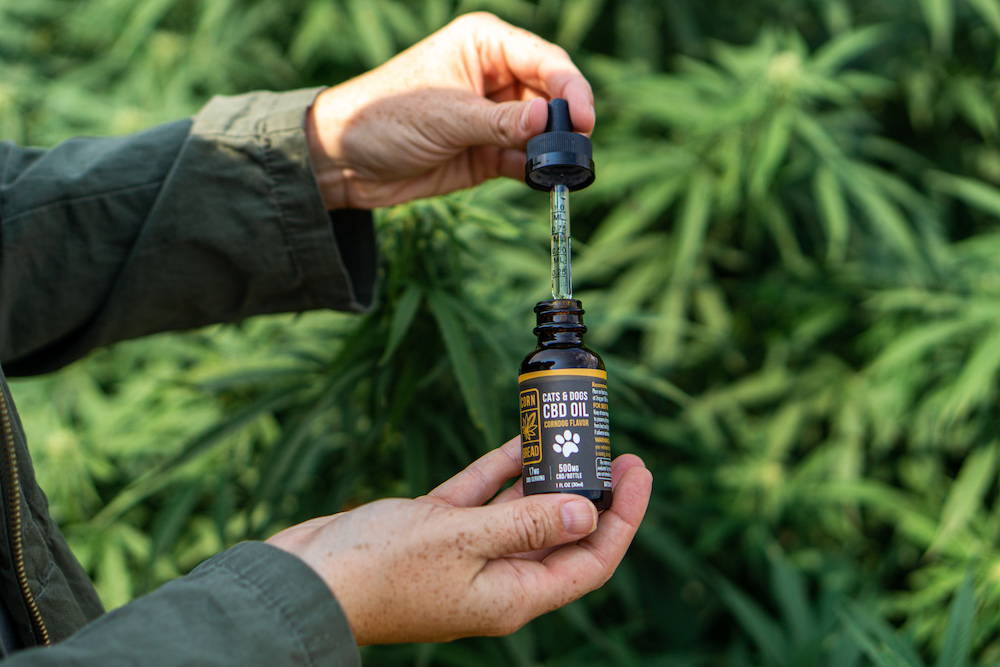 How to Use CBD Oil for Dogs and Cats
Cornbread Hemp™ CBD oil for pets is safe to use throughout the day. We recommend to start with a serving size of 2mg per 10lb of critter, then increase or decrease slowly after 2-3 weeks of consistent use.
All Cornbread Hemp™ CBD oils come with an applicator dropper that has four equal lines to measure your pet's daily serving. Simply draw up the oil into the dropper, then apply the desired amount to their food. For best results, use it at the same time everyday, and most important of all, be patient. CBD takes time to work!
CBD Oil Benefits for Dogs and Cats
All animals have an endocannabinoid system. Cannabis is the only plant known to man that has cannabinoids which react similarly to the ones we already produce.
That's why it is no surprise that animals can benefit from organic CBD oil the same way that humans can. With anxious and aging pets providing so much comfort to families like ours, it's about time we returned the favor.
If your dog or cat needs help relaxing in social settings, or for those aging critters who may have less mobility these days, our organic pet CBD oil is certainly worthy of a try.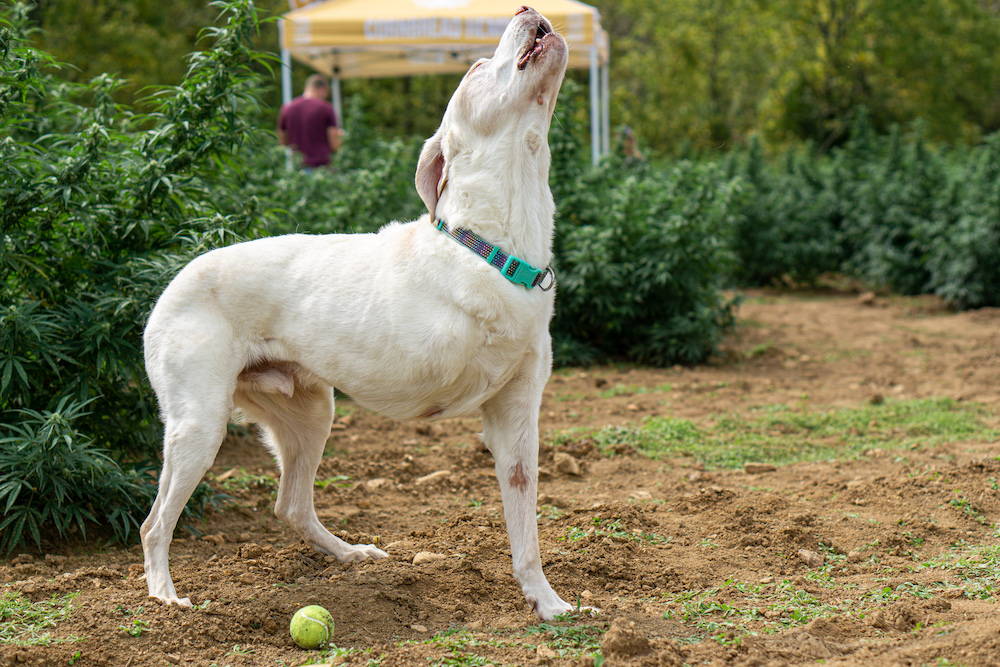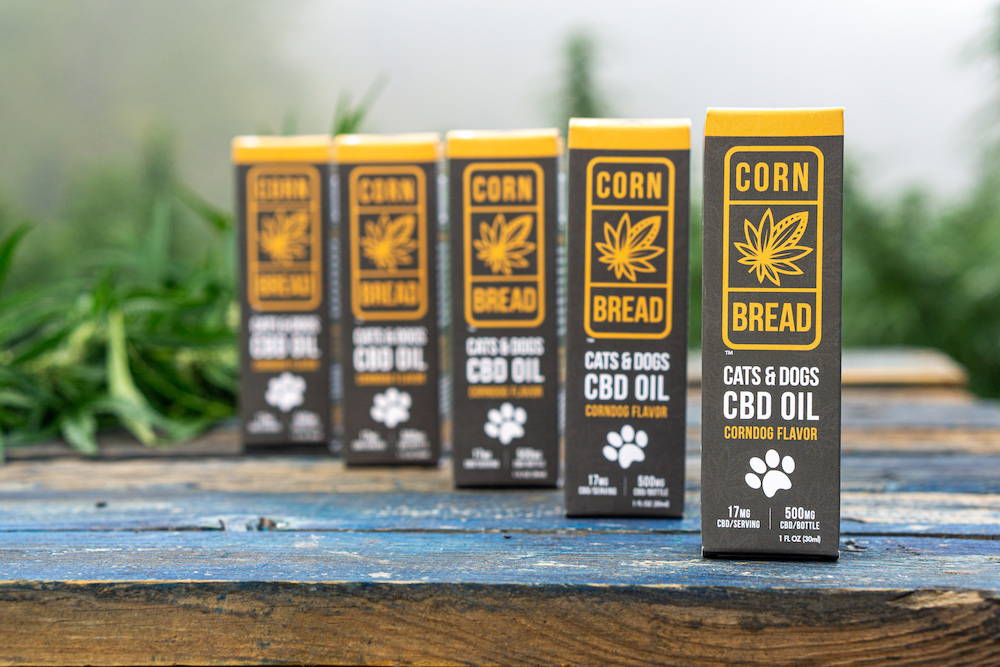 How Organic Pet CBD Oil is Made
There is no stronger bond than families and their pets. That's why we make our pet CBD oil with non-GMO, organic ingredients that we know are safe and enjoyable.
Sourcing our hemp from a single USDA organic farm in Kentucky, our supply chain is 100% free of any synthetic elements. Instead of using harmful pesticides, we buy thousands of ladybugs to use as a natural repellant.
To finish things off, we blend our organic full spectrum hemp extract with organic medium chain fractionated coconut oil, then we add our vegan corndog flavoring.
How to Find the Best Pet CBD Oil
We get it, CBD oil is everywhere. By now, hopefully you've realized that things are just different at Cornbread Hemp™. That's because we make our CBD products with more attention, love, and care than what is required.
When shopping for CBD oil for your pet, make sure to always look for a full spectrum hemp extract that contains the USDA organic seal of approval, as well as a scannable QR code that links to a third party lab report.
At Cornbread Hemp™, we've got it covered. Plus, every purchase is backed by our 30-day guarantee. If you are unsatisfied for any reason, get a refund at no hassle.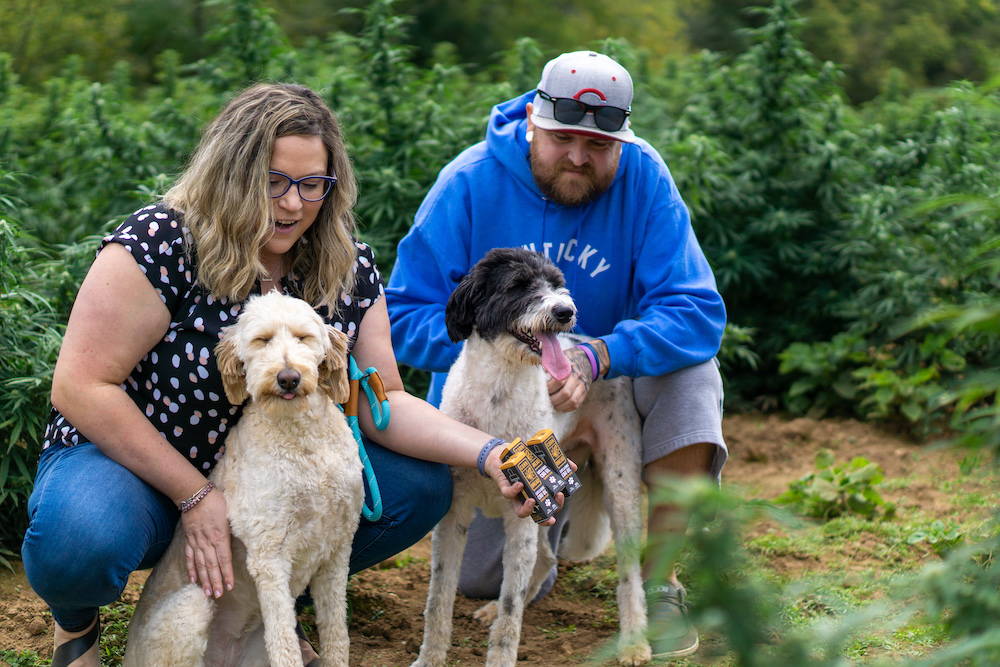 Third Party Lab Tested CBD Oil for Pets
Hemp is a bio-accumulator, which means it absorbs the nutrients, pesticides, and heavy metals from within the soil. Choosing organic CBD oil for your pet ensures that your product is free of anything that could harm them.
That's why we choose to lab test every single batch we produce for pesticides, heavy metals, residual solvents, and much more.
Interested in viewing our lab reports? We make all of our certificates of authenticity available to be seen before purchasing via our third party lab testing library.
---
Is All CBD for Pets the Same?
Will CBD get my pet high?
No! CBD oil will not get your pet high. CBD is a cannabinoid just like THC, but it reacts in a different way with the endocannabinoid system that works for anxiety and pains, while not being psychoactive.
What are some benefits of CBD for pets?
CBD oil for dogs and cats is widely held useful for a variety of health issues including aches and pains, mild anxiety, and maintaining a healthy sleep cycle. Pet owners all across the country have written dozens of reviews about their experience with our Corndog flavored CBD pet oil.
Which CBD product should I choose for my pet?
Depending on the size of your dog or cat, you may want to consider either the CBD oil for pets or the CBD capsules. Our CBD oil for pets is recommended for dogs and cats that are 40 lbs or below, at 2mg of CBD pet 10lb of critter. For bigger breed dogs, we recommend our 25mg full spectrum CBD capsules that can be taken in a soft treat or a slice of cheese.
Can I give my dog or cat the human CBD oil?
Yes! Our pet CBD oil and human CBD oil contain the exact same ingredients (minus the corndog flavoring). Therefore, it's completely safe to share some of your human CBD oil with your furry friend. But beware, our human CBD oil is much more potent, and so your pet may not enjoy the natural taste.
Is it safe to give CBD oil to my pets?
Cornbread Hemp uses the same high-quality organic CBD extract for our Pet Oil as we do for our other CBD products. We also have third party lab tests available for all products to ensure their safety. Just make sure to check with your veterinarian before beginning a CBD regimen with your pet. If he or she is on any medication, you will definitely want to consult your veterinarian first. CBD can have a synergistic effect with other medications, possibly leading to unwanted side effects.
What is the best way to give my dog CBD oil?
The easiest way to give your dog or cat CBD oil is to place the dropper full of oil on to their food at breakfast or dinner time, or on to one of their favorite treats that can easily absorb the oil. Allow the oil to set into the food so that it won't spill when letting your pet enjoy it.
How much CBD should I give my dog?
Cornbread Hemp's CBD oils come with a measured dropper, making it easy to get the right amount of CBD for your pet! We recommend a dose of 2mg of CBD per 10 lbs. Our CBD Pet Oil is formulated to be about 17mg per dropper, that's enough for an 80 lb animal. Small dogs around 20 lbs only need 4mg, about an 8th of a dropper. Larger dogs may need more than a full dropper.
How much CBD for a large breed dog?
Dogs that weigh over 100 lbs would go through a bottle of our 8 mg Pet Oil formula very quickly. A 150 lb Great Dane would need about 30mg of CBD. Instead of trying to give him nearly 4 dropperfuls of oil, try our Cornbread Hemp CBD capsules! They pack 25 mg of CBD into each soft gel, so it's easy to meet your large breed dog's CBD requirements.
How much CBD should I give my cat?
Cats can take our Cornbread Hemp Pet Oil too! We recommend a dose of 2 mg CBD per 10 lbs. That's about a fourth of a dropper for your average sized cat. Cornbread Hemp's oils come with a measured dropper to make it easy to get just the right amount of oil per dose. If your cat is on the heavier side, or less than 10 lbs, simply adjust the dosage.
How is CBD oil for pets different from CBD oil for humans?
The only difference between our CBD oil for pets and our CBD oil for humans is the concentration and the flavoring. We make each one of our CBD products with full spectrum hemp extract from organically grown Kentucky hemp, and then we blend it with organic coconut oil. For our CBD oil for pets, we simply add our proprietary corndog flavoring!
Are there any side effects with CBD oil and pets?
Generally speaking, side effects from CBD are very rare. However, there have been very rare occurrences of smaller dogs or dogs with tummy issues having diarrhea when exposed to CBD for the first time. To be sure, start with a small dose of no more than 2mg of CBD per 10lb of body weight and work your way up slowly.
Do these CBD products contain THC?
Yes! Studies show that CBD products made with broad spectrum CBD extract or THC-free CBD extract do not produce as profound of an entourage effect as CBD products that contain trace amounts of THC, otherwise known as full spectrum CBD. For this reason, Cornbread Hemp products are made only with the most potent full spectrum hemp genetics that are found naturally in the state of Kentucky.
* These statements have not been evaluated by the Food and Drug Administration. These CBD tinctures are not intended to diagnose, treat, cure, or prevent any disease. Cornbread Hemp's top quality CBD products are only available for sale within the United States and contain no more than 0.3% THC.
---
CBD Oil for Dogs and Cats Reviews