Is CBD Oil Addictive? Ask a Pharmacist
Can you get addicted to CBD?
Research from our Pharmacist
Recent changes in cannabis legalization have led to the rise in the popularity of CBD oil. Cannabidiol, or CBD for short, is one of about 150 cannabinoids found in the Cannabis sativa plant. More specifically, the cannabinoid CBD is derived from the hemp plant, which is any cannabis plant with THC levels below 0.3 percent.
CBD is a cannabinoid created in the cannabis plant that interacts with the endocannabinoid system, or ECS. The ECS is a recently discovered system within the body that contains a group of lipid proteins, enzymes, and cannabinoid receptors that have a significant impact in balancing many physiological processes.
CBD communicates with the body by interacting with the ECS. Since the Farm Bill of 2018 legalized CBD-rich hemp at the federal level, low-THC CBD oil has become extremely popular and widely used across the nation.1,2
CBD is not the only cannabinoid found in a full spectrum CBD oil. The "full spectrum" includes all of the other cannabinoids found in hemp plants, including a legal micro-dose of delta-9 tetrahydrocannabinol, or THC. Hemp is defined legally by its THC content. To be federally legal, the plants used for CBD products must contain no more than 0.3 percent THC. When a cannabis plant exceeds the 0.3 percent THC threshold, it's considered a marijuana plant.
Terpenes and flavonoids are also present in a full spectrum hemp extract. Terpenes are molecules that communicate smells, and flavonoids do the same with the sense of taste. Although not fully understood, terpenes and flavonoids work synergistically with CBD to produce a wide variation in benefits of CBD, depending on their ratios. 2,3
CBD products containing no more than 0.3 percent THC are legal under federal law and in at least 47 states. In the 35 states where medical marijuana is allowed, CBD products purchased in a dispensary may contain any amount of THC. Therefore, it is important to know the source and potency of the CBD oil, in order to prevent possible illegal or unwanted exposure to high levels of THC. Marijuana and hemp look and smell identical, so check a product's third-party lab reports to make sure you are getting a legal hemp product.
Cornbread Hemp makes it easy by making their third party lab reports readily available on their website and via a scannable QR code on every product. The quality and potency tests show that Cornbread Hemp products are safe and federally legal. Their USDA-certified organic CBD oil is produced from organic Kentucky hemp, so you know you are getting a high-quality American product.
People with addiction can lose control over their actions. They tend to seek out drugs, alcohol, or other substances no matter what the cost. Research has demonstrated that much of addiction's power lies in its ability to hijack, and even damage, key brain regions that are meant to help an individual survive.
When a person becomes addicted to substances, the normal hardwiring of helpful brain processes begin to work against the individual due to the addictive substance altering the pleasure/reward circuits in the brain. This alteration causes the individual to want more of a particular substance, as the addiction damages the essential decision-making center at the front of the brain, the prefrontal cortex.4
For generations, Americans have been taught that marijuana was a gateway drug to more addictive substances. For people who still believe this to be true, they might have a similar concern about hemp-derived CBD, even though it's legal. They have heard about the potential of CBD oil, but still wonder: is CBD an addictive substance?
As CBD consumption and sales are on the rise, many people ask the question, is CBD oil addictive? According to the World Health Organization (WHO), the answer is a simple no. The research shows CBD to have little effect on conditioned place preference or intracranial self-stimulation. CBD exhibits no effects indicative of any abuse or dependence potential. This is largely due to the compound's non-psychoactive properties. CBD products do not produce the same euphoric effects as THC, which means it does not cause an individual tofeel "high."2,5
Although CBD from the hemp plant is considered non-addictive, THC from the marijuana plant can have addictive properties. THC has psychoactive effects that produce euphoria and the feeling of being "high." THC's specific actions on CB1 receptors are what creates the potential for abuse and the compound's addictive properties, unlike CBD.
While both compounds come from the same source, they have different pharmacological effects on certain receptors in the body, specifically CB1 receptors.1,2
Can CBD Combat Addiction?
The opioid epidemic is a growing problem. In 2018, about 70% of drug deaths were due to opioid drug overdose. In an attempt to lessen opioid drug use, healthcare providers and public safety officials have teamed up to monitor the issue. Opioid drug dependency remains a critical problem because of the high abuse and addiction potential of opioids. To address this matter, other options like CBD were researched for their potential in the fight against substance use disorders.6,7,8
CBD does not have a high risk for addiction. Also, it does not contain any of the psychoactive properties that THC, opioids, alcohol, and other substances do. However, more studies need to be conducted in order to determine CBD's potential benefit against drug and alcohol addiction.1,2,6,7,8
CBD tends to be a non-toxic compound and individuals generally tolerate it very well. However, there is the possibility of experiencing side effects, although they are normally mild due to CBD's lack of a psychoactive component. Some possible side effects of CBD oil include drowsiness, decreased appetite, dry mouth, increased liver enzymes, nausea, diarrhea, and rash. Typically, CBD oil is a safe product that rarely causes toxicity.7,9,10
Cannabis has been in legal turmoil for the better part of a century, so there are still many stigmas in place when it comes to using cannabis for wellness. Because full spectrum hemp-derived CBD oil contains trace amounts of THC, they can flag positive on a drug test. This makes it risky for those who are in positions to be drug tested to try CBD oil.
Many think they can get around this by using THC-free products, like broad spectrum CBD or CBD isolates. However, some drug tests cannot tell the difference between the two compounds. So not only are these products not as effective as full spectrum CBD oil, they can still show up on a drug test as THC positive.
Unfortunately, drug testing regulations often place CBD out of the hands of many who could really benefit from its use.  
CBD could help fight addiction.
It can be used to decrease opioid use by increasing tolerance, decreasing withdrawal symptoms, and relieving the cravings associated with addiction. Also, CBD products decrease anxiety through their interactions with CB1 receptors in the brain. By inhibiting some of THC's effects, particularly on the CB1 receptor, pure CBD has shown potential in helping treat individuals with drug addiction.
CBD products can also help with withdrawal.
The use of medical marijuana and cannabinoids has been associated with the reduction in symptoms like vomiting and nausea, irritability and restlessness, and anxiety during opioid withdrawal. This is because cannabinoids show potential as a substitute for opioids and may have less severe side effects than traditional medication used to treat withdrawal.
Cannabis can help to decrease the overall use of opioids. The presence of high CBD strains in cannabis plants has shown potential as a way to improve the quality of life for patients who are undergoing opioid therapy. This is because it helps to reduce pain without causing any adverse side effects, like respiratory depression or hypotension.
There are still many limitations to CBD hemp oil used in opioid addiction. Thus, it is important for more studies to be conducted on the topic before conclusions can be made.
CBD Addiction Conclusions
CBD is a specific type of cannabinoid that is extracted from legal hemp plants and commonly formulated into an oil. Hemp-derived CBD oil has been shown to produce no signs of substance abuse or addiction potential. As more research is conducted and more human studies are performed, we will learn more about CBD products and what they can offer us.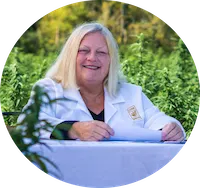 About the Author
Dr. Leslie Mudd, PharmD
A board certified oncology pharmacist with 25 years experience at the James Graham Brown Cancer Center in Louisville, Kentucky, Dr. Leslie Mudd now serves as the Cornbread Hemp resident pharmacist and medical expert. Read Dr. Mudd's full author bio here.
Is marijuana a "gateway" drug?
More research must be done on this question but the majority of people who use marijuana do not go on to use other, "harder" substances. This is per the NIH's National Institute on Drug Abuse.
What potential side effects does CBD have?
Some possible side effects of CBD include drowsiness, decreased appetite, dry mouth, increased liver enzymes, nausea, diarrhea, and rash. Typically, CBD is a safe product that rarely causes toxicity.
Can you get addicted to CBD?
According to the World Health Organization (WHO), the answer is a simple no. The research shows CBD to have little effect on conditioned place preference or intracranial self-stimulation. CBD exhibits no effects indicative of any abuse or dependence potential.
1. VanDolah, Harrison J et al. "Clinicians' Guide to Cannabidiol and Hemp Oils." Mayo Clinic proceedings vol. 94,9 (2019): 1840-1851. doi:10.1016/j.mayocp.2019.01.003
2. Kogan NM, Mechoulam R. Cannabinoids in health and disease. Dialogues Clin Neurosci. 2007;9(4):413‐430.
3. Baron EP. Medicinal Properties of Cannabinoids, Terpenes, and Flavonoids in Cannabis, and Benefits in Migraine, Headache, and Pain: An Update on Current Evidence and Cannabis Science. Headache. 2018;58(7):1139-1186. doi:10.1111/head.13345
4. Biology of Addiction. National Institutes of Health. https://newsinhealth.nih.gov/2015/10/biology-addiction Published September 8, 2017.Accessed September 1, 2020.
5. Grinspoon P. Cannabidiol (CBD) - what we know and what we don't. Harvard Health. https://www.health.harvard.edu/blog/cannabidiol-cbd-what-we-know-and-what-we-dont-2018082414476 Published April 15, 2020. Accessed September 1, 2020.
6. Volkow ND, Baler RD, Compton WM, Weiss SR. Adverse health effects of marijuana use. N Engl J Med. 2014;370(23):2219-2227. doi:10.1056/NEJMra1402309
7. Millar SA, Stone NL, Bellman ZD, Yates AS, England TJ, O'Sullivan SE. A systematic review of cannabidiol dosing in clinical populations. Br J Clin Pharmacol. 2019;85(9):1888-1900. doi:10.1111/bcp.14038
8. Office of the Commissioner. FDA Regulation of Cannabis and Cannabis-Derived Products: Q&A. Aug. 2020, www.fda.gov/news-events/public-health-focus/fda-regulation-cannabis-and-cannabis-derived-products-including-cannabidiol-cbd
9. Epidioloex [package insert]. Cambridge, UK: GW Pharmaceuticals; 2018
10. Iffland K, Grotenhermen F. An Update on Safety and Side Effects of Cannabidiol: A Review of Clinical Data and Relevant Animal Studies. Cannabis Cannabinoid Res. 2017;2(1):139-154. Published 2017 Jun 1. doi:10.1089/can.2016.0034. In the "Results" section of the abstract.
---