Where Does CBD Come From?
Suddenly, cannabidiol (CBD) is everywhere these days, but where did CBD come from? It's a reasonable question to ask. Does CBD come from marijuana or hemp? What country or what states produce the most or the best CBD? In short: where does CBD come from?
The answer to this question involves brief lessons on botany and geography. And our team at Cornbread Hemp is happy to share our knowledge of the origin story of CBD and cannabis.
The Botanical Origins of CBD
CBD stands for cannabidiol. CBD comes from the cannabis plant. It is the second most prevalent cannabinoid in cannabis second only to tetrahydrocannabinol (THC). CBD for human use was legalized when hemp was re-defined by the 2018 Farm Bill as legal when containing less than 0.3 percent THC. Cannabis plants are referred to as either hemp or marijuana based on their levels of THC.
CBD and THC are compounds that are unique to the cannabis species. Recent studies by various research institutions have found that these compounds have an effect on a system found in all animals called the endocannabinoid system. This network of receptors may have a profound influence on the body, and cannabinoids like CBD and THC may have a hand in affecting it. A side effect of the high levels of THC in marijuana is that it may get you high, however CBD itself is non-psychotropic. Therefore, hemp-derived products with high amounts of CBD, and a small dash of THC, will not get you high.
Cannabis is a genus of flowering plants in the family Cannabaceae. The number of species within the genus is disputed. Three species are recognized: Cannabis sativa, Cannabis indica, and Cannabis ruderalis.1 Cannabis is an annual, flowering herb. Its leaves are highly recognizable, thanks to their prevalence as symbols in pop culture and pro-marijuana legalization activist movements.
Cannabis leaves are compound and look like palm fronds with serrated leaflets. The first pair of leaves usually have a single leaflet, and the number gradually increases up to a usually seven or nine leaflets, depending on the variety and growing conditions. At the top of a flowering plant, this number again diminishes to a single leaflet per leaf.2
In nature, cannabis is typically pollinated by the wind, and the fruit of the plant is an achene, or a simple dry fruit. This achene is often referred to as the "seed" of the cannabis plant, but actually there is one seed inside the hard shell of the achene. These seeds appear inside the flowers of the female cannabis plant, and these flowers attract wind-bound pollen by making themselves sticky with resin.
Cannabinoids are produced in the resin made by unfertilized female flowers. Once a flower is pollinated, it stops producing this resin and begins making seeds. That's why we only use unfertilized female flowers in Cornbread Hemp products.
CBD and other cannabinoids are found in what are called trichomes, the tiny hairs on the flowers that make it look sparkly in the light.3 These trichomes are found in the flowers of the female plant, but lower concentrations can be found in the leaves and stems of the plant. Because of this, when the CBD is extracted from just the flowers it is more potent than when CBD is extracted from leaves and stems too.
Where Does CBD Oil Come From?
CBD oil is made from CBD extracted from the cannabis plant. But in America today, we have two different types of cannabis plants that have different legal restrictions: marijuana-derived CBD oil and hemp-derived CBD oil. The end results of these two sources of CBD may be nearly identical, but their legal status is quite different due to the levels of THC and CBD.
Marijuana-derived CBD oil is extracted from marijuana plants. The U.S. government defines marijuana plants as those which contain more than 0.3% THC. While most marijuana plants contain THC as the predominant cannabinoid, there are several strains of marijuana that are rich in CBD as well.4 
The legal status of cannabis has been in contention since the early 20th century. Today, while marijuana legalization has spread to every corner of the United States, there are still 15 states where this specific preparation of CBD oil remains illegal. Marijuana-derived CBD oil is only available for legal purchase in states where either marijuana itself is legal or medical marijuana is legal. Marijuana-derived CBD oil is illegal under federal law.
Hemp-derived CBD oil comes from hemp plants, which are defined as having a THC level not above 0.3 percent. Hemp plants look and smell identical to marijuana plants. Only a chemical analysis can tell whether a plant is hemp or marijuana based on THC and CBD levels.5
Whole Plant or Flower Only?
Using CBD from the "whole plant" sounds good. It seems healthier to consume whole hemp plants, not just bits and pieces. Most all CBD brands use a whole plant formulation when making their hemp-derived CBD oil. This means they grind up whole hemp plants — flowers, stalk, stems, and leaves — and pelletize them. Then, they use these pellets to make their first-pass extraction.
However, the CBD found in the stalk and leaves is low quality, and carries with it other hemp plant compounds that makes the extract taste bitter and grassy. Hemp flowers, on the other hand, are bursting with cannabinoids like CBD. Once the hemp plant begins its flowering stage, the plant starts producing flowers with hair-like trichomes, which create cannabinoids like CBD.6 That's why it's vital to a hemp farmer to tend only unfertilized female plants. If a female plant gets fertilized, she will stop producing CBD.
That's why Cornbread Hemp conducts a Flower-Only™ extraction instead of a "whole plant" extraction. Taking this extra step to ensure our biomass is as robust as possible means our end product tastes like cannabis flowers, not like grass clippings. There are none of the fillers that come from whole plant CBD oil in our flower-only CBD extract.
Hemp is a bio-accumulator; that means it draws toxins out of the soil, as well as nutrients. In many countries, hemp is used as a cover plant. It is purposely used to suck pesticides and heavy metals out of the soil so they can plant food crops. Because the production of hemp-derived CBD products is an unregulated industry in the US, makers are not required to test for these toxins. The only test required is for the THC levels.7
Ellipse Analytics, a lab in Los Angeles, tested the top-selling 240 products for 300 contaminants and for truth in labeling. After thousands of tests, 70 percent of CBD products were found to be "highly contaminated" with heavy metals like lead and arsenic, herbicides, and pesticides.8 This could lead to harmful side effects from using those contaminated CBD products. That is why the question, "where does the CBD come from?" is so important when researching CBD brands. Here are some parts of the world that your CBD may come from:
A policy of limited enforcement of marijuana as a drug has also been adopted in many countries in Europe, in particular Spain and the Netherlands where the sale of cannabis is tolerated at licensed establishments. Contrary to popular belief and certainly popular with tourists, cannabis is not legal in the Netherlands, but it has been decriminalized since the 1970s.9
Hemp grown in the European Union is capped at 0.2 percent THC, unlike the US's 0.3 percent. This standard limit reduces the number of strains which European farmers can cultivate. Reducing the number of strains limits hemp farmers' choices in selecting strains suitable for their local environments. It also weakens the gene pool.10 
The European Industrial Hemp Association wants "European farmers to be able to cultivate hemp with up to 0.3 percent THC so they can compete with competition from Canada, USA, China, and Japan," explained Lorenza Romanese, the agency's managing director, to New Frontier Data.11
According to a recent ABC Los Angeles news report, more than 70 percent of all U.S. hemp is from China.12 In China, there are few regulations enforced on the agricultural industry, leading to the production of hemp-derived CBD products that tend to contain high levels of contaminants.
According to WeedMaps, studies show that, due to the country's mining activities, some regions in China have water and soil that are contaminated with heavy metals.13 This raises serious health concerns for users of China-grown hemp CBD products.
American-grown hemp is bushy, with thick stalks that can support heavy female flowers. Growing hemp in this way allows for increased CBD concentrations, normally between 8 percent to 15 percent, which provides increased revenue for farmers and is more efficiently extracted in the facilities available in the USA.14 
In the US, the industry is unregulated and the only testing that needs to be done is that which proves that the THC content of the hemp-cannabis oil is no more than 0.3 percent. That's why it's important to know as much as possible about the company from which you source your CBD products.
The only way to be sure that an American-grown hemp CBD product meets basic safety standards is by looking for CBD oils with the USDA organic seal.
Kentucky is one of the top hemp-producing states in the country, and for a number of reasons we think it's the best. Kentucky farmers have been growing hemp since the 1770s, back when the plant's fibers were popular for use in paper, textiles, rope, and twine. Rebellious Kentuckians have continually grown hemp and marijuana even when it was illegal to do so.
Then in 2018, Congress passed the Farm Bill that finally brought hemp farming back into the light and into full legality, as long as the hemp had less than 0.3 percent THC. Kentucky was already poised to jump right into hemp cultivation.
The geographical and geological conditions of Kentucky make it ideal for producing the best hemp possible. Limestone bedrock beneath the soil gives ground water a "sweet" taste, so much so that Kentucky's largest city, Louisville, typically tops lists of best-tasting water in the country. This is the same water that goes into the world's best bourbon and helps our racehorses grow up fast and strong.
Kentucky is also located on the 37th parallel, the same line that crosses the Hindu Kush mountains in Asia, where all indica strains of cannabis originated. So, the light cycles that produce that premium cannabis are the same ones that shine on Cornbread Hemp's crops in Kentucky.

Where Does Cornbread Hemp's CBD Come From?
Cornbread Hemp uses Kentucky-grown hemp that is certified organic by the USDA for our products. Our CBD is extracted from hemp flowers only. This process is far superior than "whole plant" formulations that use the leaves and stems of the hemp plant in their extract. This is the foundation of what makes Cornbread Hemp's CBD oils unique and special. Flower-only extracts produces CBD oil that tastes great naturally without needing added flavors or artificial sweeteners. And when you use CBD made from flowers only, it can be far more potent than other whole plant products.
Our customers always know that Cornbread Hemp CBD oils are USDA certified organic. That's why we are confident enough to offer a 30-day satisfaction guarantee.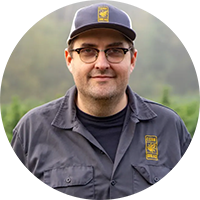 About the Author
Jim Higdon, Co-founder
a native of Lebanon, Kentucky. He holds degrees from Centre College, Brown University, and Columbia University's Graduate School of Journalism. Jim published Cornbread Mafia in 2012, full author bio here.
Cannabidiol (CBD) is a naturally occurring compound found in the flowers of the hemp plant. It is safe, non-addictive, and not psychoactive. CBD can be extracted from both indoor and outdoor-grown hemp in several ways.
How is CBD Oil Extracted?
There are two main ways CBD oil is extracted: CO2 extraction and solvent extraction. Once the hemp plant has been cut down, it's housed in a drying facility to properly cure. This preserves the natural terpene and flavonoid profiles that are critical to the quality of the final product.
Can You Make CBD Oil From Marijuana?
Technically, yes, but it would be very costly. CBD is present in high amounts in low-THC cannabis plants, otherwise known as hemp. As the amount of THC in a cannabis plant naturally increases, the amount of CBD decreases. It would be very difficult to extract CBD from high-THC cannabis plants, as the amount of CBD they naturally produce is very small. Only hemp is legal to import into the United States for use in products and research because it contains less than 0.3% THC.
1,2.  "Cannabis." Wikipedia. Accessed: 21 Jan. 2021. https://en.wikipedia.org/wiki/Cannabis.
3,6,14.  "Where does CBD come from?" Anavii Market. Accessed: 21 Jan. 2021. https://www.anaviimarket.com/blogs/news/where-does-cbd-come-from.
4,5,13. Rae, Addie, PhD. "Hemp-derived CBD vs. marijuana-derived CBD: what's the difference?" WeedMaps. Pub: 4 Aug. 2020. Accessed: 21 Jan. 2021. https://weedmaps.com/learn/cbd/hemp-derived-cbd-vs-marijuana-derived-cbd-so-whats-the-difference
7,8,12. Fletcher, Lisa. "The risk of contaminants and false labeling in the exploding CBD industry." WJLA ABC 7. Pub: 15 May 2019. Accessed: 21 Jan. 2021. https://wjla.com/features/7-on-your-side/the-risk-of-contaminants-and-false-labeling-in-the-exploding-cbd-industry
9. "Cannabis (drug)." Wikipedia. Accessed: 21 Jan. 2021. https://en.wikipedia.org/wiki/Cannabis_(drug).
10,11. Hudock, Chris. "European Hemp Farmers Feeling Hampered by EU's Low THC Limit." New Frontier Data. Pub: 25 Nov. 2019. Accessed: 21 Jan. 2021. https://newfrontierdata.com/cannabis-insights/hemp-cultivation-in-europe/
---