Posted by Jim Higdon on Jul 7th 2020
Updated: July 26, 2021
These days, CBD is everywhere. And to stand out, many CBD companies claim that their CBD products are "organic." But what does the word "organic" actually mean? And does anyone enforce the use of the word "organic" without the USDA organic seal to back it up?
First, let's establish what the word "organic" actually means. Organic is a term that came to popularity in the 1990's and 2000's to refer to agricultural products made without any synthetic pesticides, fertilizers, or other non-organic adulterants.1
But does the word "organic" actually mean anything without a third party to ensure these practices are being met? The answer is no. Absolutely not.
Companies all across the United States add the words "organically-grown" and "organic" to just about everything they can find, especially CBD products. That's because there are no rules behind the use of this word when it comes to food and supplement packaging in the United States. Instead, we have the USDA organic seal for companies that want to stand out from the crowd.2
Looking for a copy of our USDA organic certificate? Click to download a PDF of our organic certificate.
When the hemp program started after the 2014 Farm Bill, no pesticides had been approved by the EPA for use on hemp crops. That meant that any hemp grown before 2019 was automatically "organically-grown" or "organic," without the use of pesticides.3
That was true until the EPA approved 10 pesticides in December of 2019, before approving 49 more during 2020 and 2021. Pesticides are used in high volume commercial agricultural businesses like the soy bean and corn industries. Farmers spray fields quickly and easily with pesticides like Roundup to rid them of bugs and other costly pests.4
Today, the EPA has approved dozens of pesticides to be used in conventional farming operations, just the same way they've approved now 59 different pesticides to be used in conventional hemp farming.
After these pesticides became approved for use in hemp programs across the country in 2019, many CBD brands who had been claiming to be "organically-grown" or "organic" never changed their packaging or websites, even after their companies began using the pesticides that were approved by the EPA. Why? Because there are no rules or regulations to stop them.
Which brings us to why the USDA organic program exists today.
USDA Organic Certification
No laws or regulations exist around using the word "organic" or "organically-grown" outside of the purview of the USDA organic program, which regulates the use of the USDA Organic seal. That's why companies like Cornbread Hemp must go through the rigorous process of being certified organic by the United States Department of Agriculture — it's the only way to prove that a product is truly organic.
The USDA organic seal is the only way to prove to our customers that our products were actually made according to the organic standards required by the USDA. There's just no other way around it.5
So what are those standards? They are essentially the difference between being "organic" vs USDA certified organic.
When talking about a farmer's current crop, the term "no pesticides" can be misleading because pesticides remain in the soil for multiple years after they've been administered. Just because a farmer grew his crop without pesticides this year doesn't mean there weren't any leftover from last year's crop.
That's why this core standard of the USDA begins with documented evidence of at least three years of pesticide-free farming practices on the land that is to be certified, as well as lab tests to confirm the soil is free of pesticides.
Instead of pesticides, our organic farmers release thousands of ladybugs and praying mantises on the farm each season to act as a natural pest repellant. Additionally, our farmers plant goldenrod along the perimeter of the hemp crop to act as a "distraction crop" for insects and other animals.6
Hemp is a natural bio-accumulator, which means it absorbs much of what is in the soil, like nutrients, water, and impurities like heavy metals. That's one reason why it's so important to make sure to look for a third-party lab test when shopping for CBD products to confirm they are free of the contaminants that hemp often absorbs.
But when it comes to certified organic products, another huge differentiator is the fertilizers that are allowed to be used on conventional products vs certified organic products.
After each growing season, conventional hemp farmers need to supplement the soil with vital nutrients like phosphorous and nitrogen in order to prepare it for the next growing season. That means the hemp plant will be absorbing synthetic fertilizers, which can ultimately end up in the final product.
Instead of synthetic fertilizers, certified organic farmers rely on crop rotation and natural fertilizers like organic chicken litter that naturally regenerate the nutrients back into the soil for another healthy growing season. That means the same crop won't be planted in the same field every year, to allow the soil to regenerate the nutrients from natural sources.
Regenerative agriculture is the most sustainable and environmentally friendly commercial farming practice that exists. And it's even more important when the end result is a concentrated product like the ones we make in the CBD industry. No one wants concentrated contaminants in their CBD oil. That could be dangerous. 7
Certified Organic Ingredients
In order for any product to bear the USDA organic seal, it must be made with at least 95% certified organic ingredients. For CBD oil, that means everything from the extraction process to the carrier oil must be USDA certified organic for the final product to then be certified.8
At Cornbread Hemp, we are proud to be one of the first ever providers of USDA certified organic CBD products, especially our new full spectrum certified organic CBD gummies, made with USDA organic blueberries, raspberries, and strawberries.
Certified Organic Facilities
Similar to the Good Manufacturing Practices (GMP) certification, the USDA organic program requires an annual facility inspection that includes production, warehousing, and distribution.9
These inspections ensure that all of the requirements set by the USDA are being properly addressed, like keeping certified organic products separated from conventional products. These visits also ensure that all paperwork and sourcing information is on file, up to date, and not changed since the last inspection.
Additionally, inspectors audit the paperwork of random products and batches to ensure that proper records are kept regarding which products were received from certified organic suppliers.10
Final Thoughts on Organic Products
Many CBD brands claim to use "natural" practices and may call it "organic" hemp oil while they are actually dumping chemicals on their hemp crops because it's perfectly legal for them to do so. If a CBD product isn't USDA certified organic, then it's not tested and regulated as an organic product. That's why you should always look for the USDA Organic seal.

From farm to market, organic CBD products with the USDA Organic label meet all of the requirements outlined in the USDA's organic regulations.
Achieving this status is no easy task. Certified organic products must be raised from non-GMO seeds and be completely free of pesticides, synthetic fertilizers, growth hormones, sewage sludge, radiation, and much more.
For an organic CBD manufacturer, this involves a lot of moving parts. For more information, check out this infographic below:
WATCH: Our Organic Farming Practices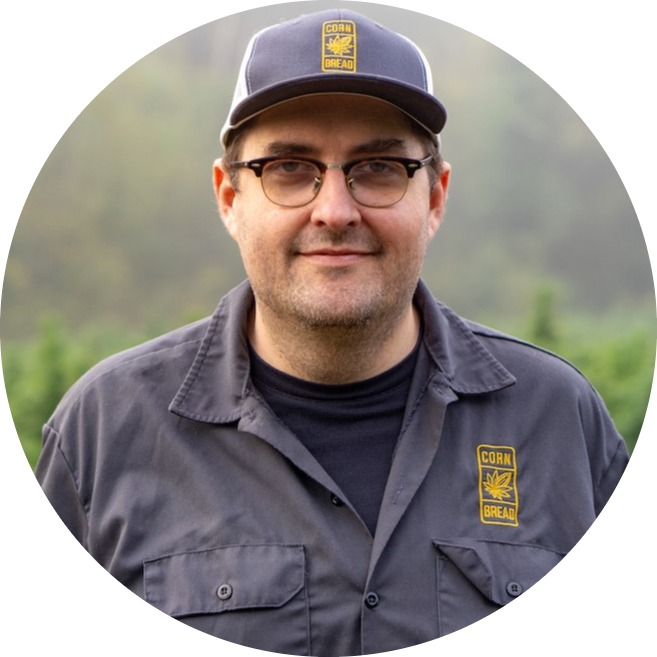 About the Author
Jim Higdon, Co-founder
a native of Lebanon, Kentucky. He holds degrees from Centre College, Brown University, and Columbia University's Graduate School of Journalism. Jim published Cornbread Mafia in 2012, full author bio here.
Is your brand certified organic?
Yes. Cornbread Hemp is certified organic by Ecocert, a third-party certifier. You can download our certificate as a PDF in the blog post above. Cornbread Hemp currently offers 10 products that are USDA Certified Organic.
Are your products made with organic materials?
Cornbread Hemp's products are all made with organic materials. Our CBD oils are 100 percent organic and our other certified organic products are at least 95 percent organic. Our CBD capsules and our CBD Oil for Pets are not certified organic.
Is "organically grown" the same as certified organic?
"Organically grown" implies the non-use of pesticides and other organic practices. The only way to know for sure that a product is truly organic is if it is certified organic by the USDA. That's why the USDA Certified Organic seal is so important.
1. Forman, J. et al. "Organic foods: health and environmental advantages and disadvantages." Pediatrics. Published November 2012; accessed July 26, 2021. https://pubmed.ncbi.nlm.nih.gov/23090335/
2. USDA Marketing. "Becoming a Certified Operation." USDA Agricultural Marketing; accessed July 26, 2021. https://www.ams.usda.gov/services/organic-certification/becoming-certified
3. Hudak, J. "The Farm Bill, hemp legalization and the status of CBD: An explainer." Brookings. Published 2018; accessed July 26, 2021. https://www.brookings.edu/blog/fixgov/2018/12/14/the-farm-bill-hemp-and-cbd-explainer/
4. Drotleff, L. "EPA approves 10 pesticides for hemp production." Hemp Industry Daily. Published December 2019; accessed July 26, 2021. https://hempindustrydaily.com/epa-approves-10-pesticides-for-hemp-production/
5. USDA Marketing. "Organic 101: What the USDA Organic label means." USDA Agricultural Marketing; accessed July 26, 2021. https://www.usda.gov/media/blog/2012/03/22/organic-101-what-usda-organic-label-means
6. Ramirez, J. "Biological 'Green' Alternatives to Chemical Pesticides." USDA Agricultural Research Services. Published July 2021; accessed July 26, 2021. https://www.ars.usda.gov/oc/utm/biological-green-alternatives-to-chemical-pesticides/
7. Terry, Q. "Farmers Lead the Charge for a Sustainable Future." Natural Resources Conservation Service Texas. Published March 2019; accessed July 26, 2021. https://www.nrcs.usda.gov/wps/portal/nrcs/detail/tx/newsroom/stories/?cid=nrcseprd1448895
8. Starbuck, A. "Understanding Food Labels." Food and Water Watch. Published June 2021; accessed July 26, 2021. https://www.foodandwaterwatch.org/2018/07/31/understanding-food-labels-2/
9. "What is GMP?" International Society for Pharmaceutical Engineering. Accessed July 26, 2021. https://ispe.org/initiatives/regulatory-resources/gmp/what-is-gmp
10. McAvoy, M. "Organic 101: Ensuring Organic Integrity through Inspections." U.S. Department of Agriculture. Published February 2017; accessed July 26, 2021. https://www.usda.gov/media/blog/2014/02/26/organic-101-ensuring-organic-integrity-through-inspections
All rights reserved. The statements made regarding these products have not been evaluated by the Food and Drug Administration. The efficacy of these products has not been confirmed by FDA-approved research. These products are not intended to diagnose, treat, cure or prevent any disease. All information presented here is not meant as a substitute for or alternative to information from health care practitioners. Please consult your health care professional about potential interactions or other possible complications before using any product.