CBD Cream
Cornbread Hemp™ CBD topicals are made with USDA certified organic hemp extracts sourced exclusively from Kentucky. Our CBD cream is a popular choice for soothing dry skin and stiff joints by absorbing quickly and leaving no greasy residue behind. Read FAQ's and watch how they're made.
---
Cornbread Hemp™ CBD creams are made with the same premium USDA organic hemp extract we use in our organic CBD oils. Full spectrum but free of leftover hemp plant matter, our CBD creams have just the right touch of minor cannabinoids and terpenes, without leaving your skin greasy.
Just like our USDA organic CBD oils, we lab test every single batch of CBD lotion at a third party laboratory for heavy metals, pesticides, solvents, and more. Nothing gets sold until it gets tested.
Designed to Absorb Quickly
Most full spectrum CBD topicals are made with whole flower hemp extract that leaves behind a greasy residue when applied topically.
The result is a fast acting CBD cream that will bring you the quickest relief possible with topical CBD.
LAB TESTED | FULL SPECTRUM | MADE IN KENTUCKY
Not tested on animals, vegan ingredients
Flower-only hemp oil (no stems or leaves)
No pesticides, no synthetic fertilizers
No artificial scents, paraben free
Sustainably sun-grown in fertile Kentucky soil
Third party lab tests on every single batch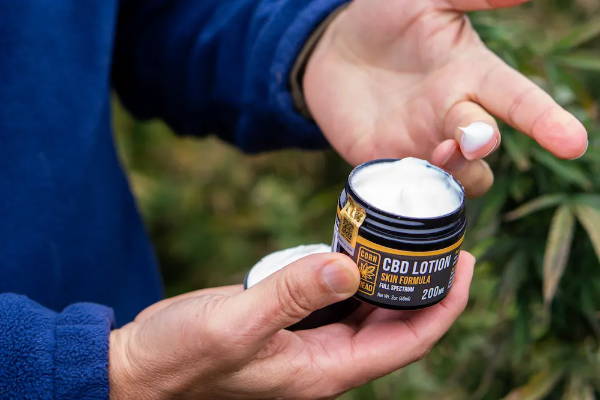 How to Use a Topical CBD Cream
Cornbread Hemp™ CBD topicals can be used throughout the day as needed. Apply a nickel sized portion of our CBD lotion to any painful or problematic areas, then massage the cream into the skin until it is fully absorbed.
Don't worry about applying too much CBD cream - use as much as you need to until your symptoms return.
After use, rinse your hands and avoid your eyes. Sensitive areas could be irritated by the menthol in our CBD cream.
As with any high quality CBD product, proper storage and care is needed to maintain the shelf life and efficacy of the extract. Store your CBD topicals in a cool, dry place away from heat and light for the best results.
If your CBD cream gets too warm or is exposed to extreme temperatures, you could risk spoiling the ingredients we use to make our body lotion.
If you need to travel with your CBD cream, don't worry! Cornbread Hemp™ products are designed to be TSA compliant and are federally legal in all 50 states.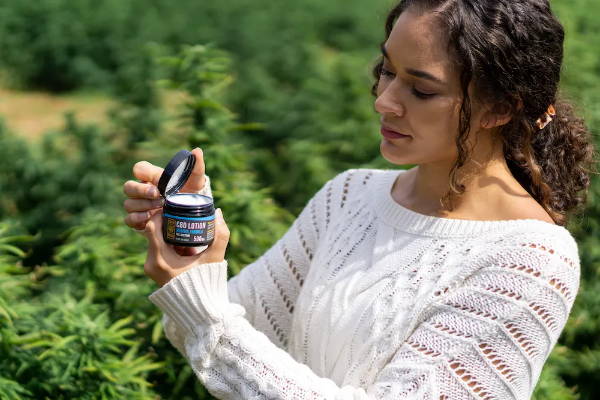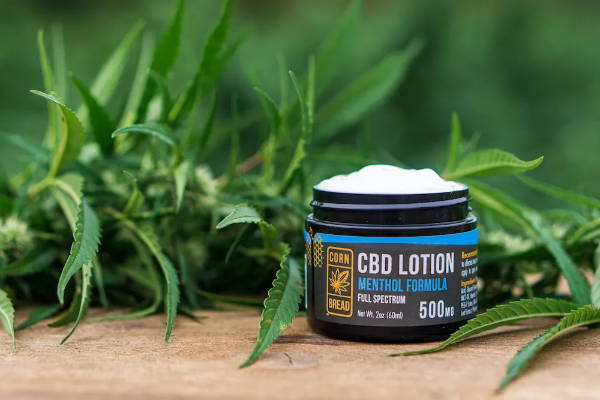 How Full Spectrum CBD Cream is Made
The quality of Cornbread Hemp™ products begins at the seed. We hand select our non-GMO hemp genetics for the widest range of cannabinoids and terpenes to end up in our final products.
After planting our hemp plants in certified organic Kentucky soil, we allow them to grow to the perfect maturity before carefully harvesting them by hand.
After harvest, we separate the CBD-rich flowers from the stems and leaves of the plant before the organic sugarcane ethanol extraction process. Finally, we blend the hemp extract with our premium body lotion.
How to Find the Best CBD Topicals
Verified customer reviews, American-sourced hemp, third party lab tests, and the USDA organic seal are just a few qualities you should look for when buying CBD online.
Additionally, make sure they have a return policy, and that they provide a level of customer service that is suitable to your specific needs.
At Cornbread Hemp™, you don't have to worry. Every order is backed by our 30-day guarantee. If you're unsatisfied for any reason, request a refund for one full item with no questions asked.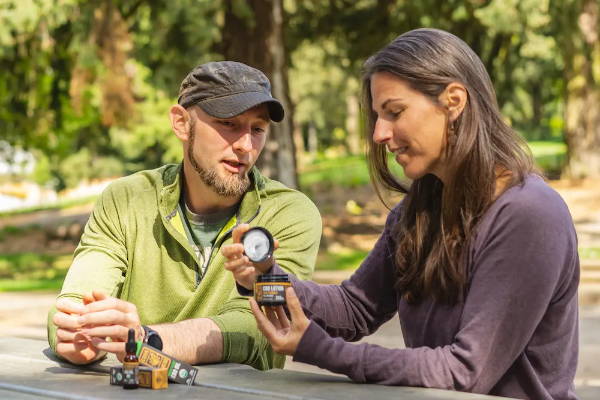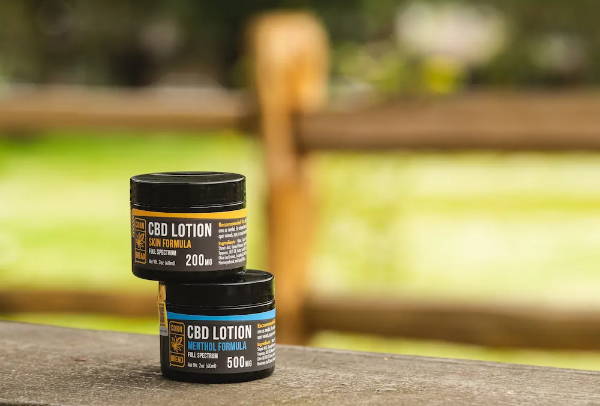 Third Party Lab Tested CBD Cream
Even though our hemp is sourced exclusively from a single organic farm, we still choose to take things a step further. That's why we test every single batch of our CBD topicals at a third party laboratory for any contaminants.
This third party lab test includes inspections for heavy metals, pesticides, microbials, mycotoxins, residual solvents, mold, and more!
By performing this rigorous quality control process on every batch we produce, we ensure that each of our products is safe for both our family and yours.
The skin is the largest organ in the body. And when the skin is out of homeostasis, it can result in inflammation and a variety of skin conditions. Scientists have been studying the skin and the ECS as far back as 2009. That year, a joint team of American and Hungarian researchers concluded that "the main physiological function of the cutaneous ECS is to constitutively control the proper and well-balanced proliferation, differentiation, and survival, as well as immune competence and/or tolerance, of skin cells."
The CBD topical market was originally filled with CBD balms and CBD salves made with whole hemp plant extract and an oil base like beeswax. These hemp-derived CBD topicals can work well for things like targeting joint pain and muscle pain, but they also leave the skin greasy after application. They tend to sit on the skin rather than fully absorb.
We immediately set out to create a full spectrum CBD lotion with no greasy residue and fast absorption. We did this by blending our USDA organic distilled CBD extract with a premium, paraben-free lotion.
CBD is available in various forms including CBD oil, CBD capsules, CBD cream, and even CBD oil for pets. The advantage to trying a CBD cream as opposed to another form of CBD is that you are able to apply the full spectrum cannabinoids directly to the problematic area. Whether you deal with skin conditions or pain management issues, trying a topical CBD cream at the source of the irritation may prove to be the most beneficial way to find relief.
If you are new to CBD, you might be nervous about trying an ingestible cannabis product for the first time. Using a CBD cream for your first try of CBD is a great way to get started! With CBD, there is no need to worry about accidentally getting high or overdosing. That goes for both CBD cream and CBD oil!
Our high quality CBD creams are a popular choice among wellness enthusiasts because side effects are rare and benefits happen fast. If you have questions or concerns, reach out to our friendly customer service team at support@cornbreadhemp.com!
When buying a CBD cream online, there are a few key principles to follow. First, only buy from a company that has a great brand reputation and outstanding customer service. Check this by looking through their customer reviews. Second, only buy CBD products from companies who source their hemp from the USA. If you can't find that information, don't buy it!
Third, avoid buying products that are made with CBD isolate or broad spectrum CBD extracts. If the label doesn't say which type they use, that's even worse! Fourth, only buy CBD topicals from companies with a clean and safe extraction method. And finally, avoid any company that does not make their third party lab results available to be viewed.
At Cornbread Hemp, we pride ourselves on attention to detail. Our farmers grow our hemp plants in the fertile Kentucky soil. Our third-party lab partner analyses our products for cannabinoid potency, pesticides, heavy metals, microbials, and more. And we will always be committed to producing the most trustworthy, most potent CBD oil that is legally available for sale in the United States. If you're ready to try the best CBD in America that combines 250 years of Kentucky hemp-growing tradition with cutting edge cannabis science, add a CBD cream to your shopping cart today!