Posted by Jim Higdon on Sep 30th 2020
Kentucky has been growing the majority of America's outdoor hemp supply for over 250 years.
At Cornbread Hemp, our entire brand story rests on the superiority of Kentucky CBD oil and the deep historical roots that hemp has in the Kentucky farming culture. Here are the short answers to what makes Kentucky hemp better and unique:
Hemp thrives in the same agricultural climate that makes the world's fastest horses and best-tasting whiskey.

Kentucky shares the same light cycles as the Hindu Kush, where indica cannabis strains originated.

Kentucky culture has kept hemp alive in one form or another for 250 years.
This sets the table for why we say that Kentucky produces the best hemp in America. And the main course on that table is Cornbread Hemp, the best hemp-derived CBD brand from Kentucky.
But those are not the only reasons why Kentucky excels at hemp production. Watch this video to get started:

Here are a few more reasons why Kentucky is leading the nation on the hemp revival:
Kentucky Political Leadership
As strange as it may seem, the leadership to legalize hemp in Kentucky came from Republicans in 2013. That started with then-Agricultural Commissioner James Comer, who passed a hemp bill out of both chambers of the Kentucky legislature against steep odds. Then, Comer convinced U.S. Senate Majority Leader Mitch McConnell to support hemp.
That took some time, but eventually Sen. McConnell became a vital element in the Senate. Along with the senators from Oregon, McConnell legalized hemp by inserting it as a one-page pilot program into the 2014 Farm Bill. This was the first step to legalizing Kentucky CBD oil.
Kentucky CBD Companies from 2014 to 2018
When the 2014 Farm Bill passed, everyone assumed this meant "industrial hemp." But that's not exactly what happened. As soon as cannabis breeders understood that the only cannabinoid regulated was THC, they started breeding varieties with low THC and high CBD, almost overnight.
To the credit of Kentucky Republicans in D. C., they supported this new aspect of the hemp industry. So in the 2018 Farm Bill, McConnell helped to legalize hemp for cannabinoid production, specifically CBD.
That leadership created the opportunity for brands like Cornbread Hemp to share our Kentucky CBD oil with the nation.
Politics and CBD Companies in Kentucky
The hemp rules need to change, both in Kentucky and in D.C. For instance, Kentucky still bans hemp flower. That's a real shame. Kentucky grows some of the best hemp flower in the world, and yet our state government won't allow our farmers to sell it.
Also, Kentucky has not yet legalized marijuana for medicinal purposes. And we think that's a shame, too. Kentucky Republicans seem split on this issue, which is why it hasn't happened yet.
In the 2020 legislative session, the Kentucky House passed a medical marijuana bill with 60% of the chamber voting in favor. That's a very noteworthy result given that more than 60% of the chamber is Republican.
The medical marijuana bill had the votes to pass the Senate Judiciary Committee, but then the COVID-19 pandemic cut the legislative session short. That pushes medical marijuana to the next legislative session.
But the writing on the wall says that marijuana will become legal in Kentucky one day soon.
Sustainability of CBD Companies in Kentucky
Here's another thing about Kentucky that makes it ideal for hemp cultivation: rain water. Despite wild fluctuations due to climate change, Kentucky's hemp crops get all the water they need from rain that comes from storm systems that track along the Ohio River.
Colorado legalized hemp well before Kentucky, and hemp has flourished as a crop in other western states. But the water demands of an expanded hemp crop, especially in a place like Colorado, is really beginning to reduce the availability of water.
In fact, the western cannabis states of Colorado, California, Oregon, and Nevada now find themselves in the middle of a man-made mega-drought. And the water demands from the hemp crop could be partly to blame.
It means that Kentucky hemp produces the best hemp, and the best CBD oil, on the planet. And on top of that, Kentucky offers the most sustainable agricultural climate for long-term hemp development.
For consumers looking for USDA certified organic CBD oil, Cornbread Hemp has you covered. We are one of many other brands, mostly from western states. But if you want hemp farmed in the most sustainable manner, then there's no better option than Kentucky CBD oil.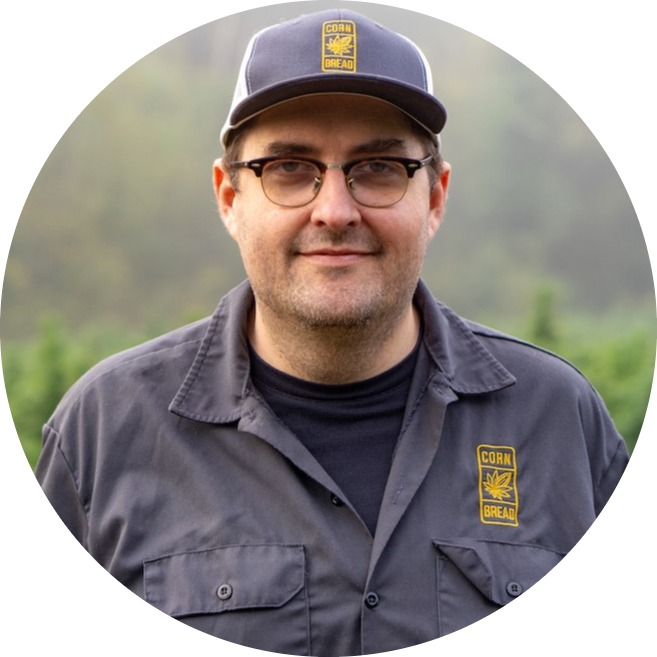 About the Author
Jim Higdon, Co-founder
a native of Lebanon, Kentucky. He holds degrees from Centre College, Brown University, and Columbia University's Graduate School of Journalism. Jim published Cornbread Mafia in 2012, full author bio here.