Posted by Jim Higdon on Sep 15th 2020
The term "full spectrum" gets used a lot in the CBD industry. But for someone new to cannabidiol (CBD), it might not be clear what "full spectrum" means. When you understand the meaning of "full spectrum CBD oil," you will also know how it differs from other hemp plant derived products. Anything labeled "broad spectrum," "THC-free," 'non-detectable THC," or "CBD isolate" relates to the purity of CBD and absence of THC.
We are here to help you understand what full spectrum CBD oil products are, and why they are better than THC free products. We will also show you how Cornbread Hemp's products are unique amongst other full spectrum CBD oil brands.
The purported healing properties of the cannabis plant have been documented going back centuries. It is historically popular for use for general health while having few if any side effects. The industrial hemp industry was alive and well up until the early 1900s, leading the nation's fiber production. Then, marijuana plants were outlawed and all forms of cannabis plants were prohibited for the better part of the 20th century.
Prior to 2018, Cannabis sativa cultivation was only permitted by specific state laws for medical use. But the Farm Bill of 2018 made it possible for cannabis hemp plants containing trace amounts of Tetrahydrocannabinol THC to be cultivated nationwide. This bill clarified the definition of "hemp plants" to be cannabis that contains no more 0.3 percent THC. Anything above that threshold is considered to be federally illegal marijuana.
WATCH: What Does Full Spectrum CBD Oil Mean?
What Does "Full Spectrum" Mean?
"CBD full spectrum" refers to cannabidiol (CBD) products that contain all of the natural cannabinoids found in the cannabis plant, including minor cannabinoids like CBC, cannabigerol CBG, cannabinol CBN, and also the legal amount of less than 0.3 percent THC. Full spectrum CBD oil formulations range in CBD purity between 50 percent to 75 percent. At about 80 percent, the THC levels become non-detectable and thus enter the range called "broad spectrum."
Sometimes, brands use terms like "THC-free" or "non-detectable THC". There is not yet established consensus on terminology, so the wording can get mushy. CBD isolate is the most pure form of CBD with a purity level above 99 percent. While in some cases, purity is a good thing, in cannabis products that is not the case.
How Full Spectrum CBD Oil Works
CBD works by potentially affecting a recently discovered system in the body called the endocannabinoid system. This network of cannabinoid receptors overlays the central nervous system, and receptors can be found all over the body.
There are at least 150 cannabinoids found exclusively in the cannabis plant, and studies show that these compounds have the most affect on the endocannabinoid system when working together. This process is called the "entourage effect." That effect is not present when using broad spectrum products or CBD isolate alone. Only full spectrum CBD oil can trigger an entourage effect on your body.
So the phrases "pure CBD" or "99 percent pure CBD" might sound like that's what you should want in a CBD product. But actually, extremely high levels of CBD purity make the product less effective. Full spectrum CBD products have a lower level of CBD purity but work better because they encourage the entourage effect.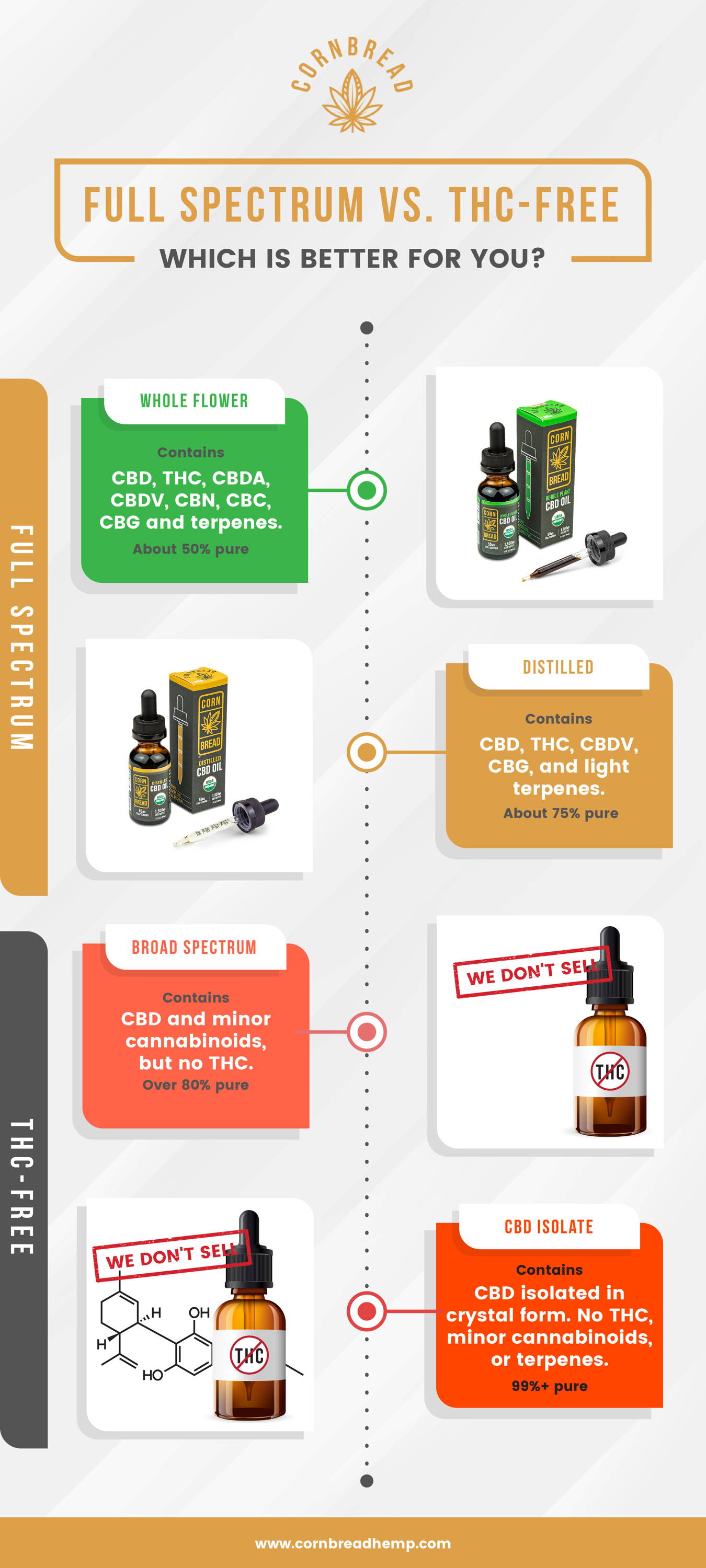 Are Cornbread Hemp Products Full Spectrum?
All products sold by Cornbread Hemp are full spectrum CBD oil, meaning they have trace amounts of THC. We make our full spectrum USDA certified organic CBD oils at two purity levels: Whole Flower and Distilled.
Cornbread Hemp is the only company that offers USDA certified organic CBD oils at different purity levels, so it is understandable that people would have questions about our CBD oils. Here's a quick breakdown to show the difference between the two:
Cornbread Hemp Whole Flower Formula
Cornbread Hemp's USDA certified organic Whole Flower formula is about 50 percent pure CBD with a full spectrum of cannabinoids and other cannabis plant compounds. Most hemp companies will use the whole plant in their formulas, including leaves and stems that have little CBD content. We only use organic hemp flowers for our extracts for the most potent and best tasting full spectrum CBD oil products, never leaves and stems!
The oil is amber in color with a smooth natural taste. Many CBD hemp oils have a bitter aftertaste that they try to cover up with added flavors. Because our gentle CBD extraction process uses organic sugarcane ethanol which evaporates naturally leaving pure extract, we don't have that problem.
The Whole Flower oil has a flavor profile ranging from nutty to floral, depending on the batch. It is never grassy or earthy. Customers tell us that our Whole Flower formula is best taken in the evening. They say it's great for relaxing away the worries of the day and preparing for a good night's rest.


Cornbread Hemp Distilled Formula

Cornbread Hemp's USDA certified organic Distilled formula is about 75 percent pure CBD, which is near the upper purity limit of full spectrum products before the THC becomes non-detectible. That's why we stop the distillation process at 75 percent to ensure we retain the full spectrum of cannabinoids along with the higher purity level.
The Distilled oil has a flavor profile that's mildly hempy with a slight aftertaste from the organic MCT coconut oil we use as a carrier. Our customers tell us that the Distilled formula is great for morning and daytime use to fight off workday aches and discomfort without feeling drowsy. It's also the same extract we use to formulate our premium CBD topicals, which absorb quickly and do not leave a greasy residue behind.
(Because the Whole Flower has become so popular for evening use, and the Distilled is considered best for daytime use, we have combined both in an AM-PM bundle for customers looking for 24 hour comfort and ease!)
Does Full Spectrum CBD Get You High?
No, full spectrum CBD oil does not get you high. CBD itself does not have the same psychoactive effects as THC from the marijuana plant. It has actually been shown to counteract the high caused by THC in some cases by blocking the receptors in your brain that normally bind to THC. But even though CBD is a non-intoxicating cannabinoid, it still may affect your mood by helping you feel more calm and relaxed.
But as much as we hate to say it, any full spectrum CBD product with trace amounts of THC could build up in your system over time, and then yes, perhaps it could cause you to test positive on a drug test even if you have never smoked marijuana.
This depends on how long you've been taking full spectrum CBD and which kind of drug test you take, so there's no guarantees either way. If your job depends on passing a drug test and you feel the need to take full spectrum CBD oil, make sure you talk to your doctor and get his recommendation in writing, and then talk to your human resources team, and get it in writing from them that you have their permission to use full spectrum CBD oil.
Every CBD consumer that's willing to invest in the highest quality CBD oil needs to be advised, there are plenty of disreputable brands labeling their CBD products as "full spectrum" and "THC free" on the same label. This is a contradiction in terms, and a clear sign of a scam job. Any product with a label that claims to be "full spectrum" and "THC free" is most likely fake CBD.
When Should You Not Take Full Spectrum?
The only reason to not choose a full spectrum CBD oil product is if you have a drug test hanging over your head. If a positive drug test for THC is going to have a serious impact on your life, do not make the mistake of thinking you can take CBD isolate or THC-free broad spectrum CBD products and be absolutely sure you will pass a drug test.
Some drug tests detect CBD as the same as THC, so that CBD isolate could flag as a false positive for THC. That's why we recommend informing your workplace HR department (or the appropriate oversight person) of your intention to take full spectrum CBD products. And if you get approval to take any form of CBD, be sure to get that approval in writing!
Another option is to use CBD topicals, like our CBD creams, or our organic CBD balm. Cannabinoids do not penetrate the skin's layers deep enough to absorb into the bloodstream as well as they do when placed under your tongue.
When Should You Take Full Spectrum?
The only reason to shy away from full spectrum CBD products is the consequences of drug tests. For maximum wellness potential, choose full spectrum CBD products like our USDA certified organic CBD oils in Whole Flower and Distilled formulas. And if sublingual full spectrum hemp oil isn't your thing, then consider trying our full spectrum CBD capsules made with premium Kentucky hemp extract, just like our CBD oils.
All rights reserved. The statements made regarding these products have not been evaluated by the Food and Drug Administration. The efficacy of CBD products has not been confirmed by FDA-approved research. These products are not intended to diagnose, treat, cure or prevent any disease. All information presented here is not meant as a substitute for or alternative to information from health care practitioners. Please consult your health care professional about potential interactions or other possible complications before using any product.
Cornbread Hemp works with suppliers who guarantee a less than or equal to 0.3% THC content. With these trace amounts of THC, it is possible that users may fail a drug test. Cornbread Hemp does not take any responsibility in the instance a customer fails a drug test while using these products.