6 Best Natural Gifts this Holiday Season

Are you looking for natural gifts this year? Ones that feel as good to give as they are to receive? Whether it's nutritious fruit to feed their bellies, CBD oils to shore up their moods, or a cozy cotton robe to wear after a long day of holiday prep, our Natural Gifts Guide has those and more suggestions for gifts that you'll want to give. And maybe gifts that you'll want to receive, too.
Here is Cornbread Hemp's 2020 Natural Gift Guide.
Chagrin Valley Soap and Salve Company: Gift Sampler $65

This beautiful and organic natural gift box of soaps, lotions, scrubs and more is the perfect present for someone who needs a little pampering. A large gift box filled with a variety of Chagrin Valley's natural, organic skincare products. The gift box includes:
Full-Size Bar of Goat Milk Oatmeal Soap

Full-Size Bar of Shea Rose Clay Soap

Lip Balm: Mocha Java

Body Scrub: Coconut & Honey

Bath & Body Oil: Lavender & Rosemary

Bath Salt: Jar Tranquil Spirit

Three Butter Lotion Bar

Whipped Shea Butter: Natural Scent

Natural Ramie Soap Mitt
These products are USDA certified organic, cruelty-free, Rainforest Alliance Certified, and are non-GMO—so, basically this company is doing things right.
The sampler ingredients include goat milk, Himalayan pink salt and organic mango butter, among other organics. It comes in a fully recyclable kraft box made of recycled materials wrapped in a ribbon. You can ship this directly to the recipient and include a gift message.
Jess M. gave the box 5 stars and wrote, "I ordered this as a gift for a colleague and friend that has been slowly renovating an old farmhouse. They finally got water running to the house and I thought this was the perfect gift for her to celebrate with a luxurious bath! They were thrilled and said the gift and card were beautifully presented."
Shipping for the box and for any other Chagrin Valley products is a flat rate of $7.75. For this and all Chagrin Valley products, shop here.
Healing Solutions: Cascade Ultrasonic Essential Oil Diffuser $199

The Healing Solutions Cascade Diffuser looks like a glowing crystal ball. Its soothing color-changing lights are the perfect companion for all of your organic oil-diffusing needs.
The diffuser is hand-blown glass with a natural wood base. The Cascade Ultrasonic has high-frequency ultrasonic technology which diffuses organic essential oils into the air allowing you to experience all of the benefits of aromatherapy, making it the perfect natural gift. Here are some of the features:
6 color-changing light options (soft white, blue, green, yellow, red, purple)

3 light modes (warm white, rotating, fixed)

Runs in any environment for up to 6 hours

Automatic shut off safety system when the reservoir is empty.

Doubles as a humidifier when it is used without essential oils to add moisture into the air

Diffuser covers up to 1000 square feet

Reservoir capacity is 200 ml / 3.4 fl oz

The output is 33 ml per hour
Stephanie gave the diffuser five stars and wrote: "I love, love, love this diffuser!! Shout out to customer service for sending me an entire replacement when my kids decided to have a pillow fight and my dome shattered! I have had nothing but good experiences with this company!! Highly recommend them and this gorgeous diffuser."
For this essential oil diffuser and all Healing Solutions' products, shop here.
The Company Store: Organic Cotton Percale Sheet Set $122-216

The perfect natural gift for anyone with difficulty sleeping, these sheets are cool, crisp, and smooth to the touch. Available in sizes Twin (and Twin XL) to King, these luxurious sheets are woven of a fine 300-thread count, 100 percent organic combed cotton percale. These sets are available in eight colors and can be monogrammed with the gift recipient's initials, name or favorite word.
Company Cotton Organic Cotton Percale Sheet are woven, dyed, and finished according to strict Global Organic Textile Services (GOTS) standards to be free of all harmful chemicals.
Susan loved the sheets and gave them 5 stars. In her review she said, "I am a huge fan of percale sheets and these are the best I've ever purchased. The fabric is outstanding, the workmanship is excellent. Quality percale sheets need a washing or two to soften, but after the second wash these are crisp, cool, and comfortable!"
The gift of natural, organic sheets is the gift of a good night's sleep. For all Company Store products, shop here.
Cornbread Hemp: Holiday Survival Kit $99.99

Why gift CBD oils? After a tough 2020, give a gift that will bring health and well-being to your friends and loved ones in the new year. This natural gift can provide relief from pain, reduce anxiety and improve sleep. Included in this Holiday Survival Kit are two CBD oils, a CBD lotion, and a gift card.
This holiday bundle is made from USDA certified organic, non-GMO CBD oil from hemp flowers. These hemp plants are grown on family farms in Kentucky with no synthetic fertilizers or pesticides. Cornbread Hemp is a family-owned Kentucky company too!
There are no flavorings or preservatives in Cornbread Hemp, only organic CBD extract and organic medium chain coconut oil. Included in the survival kit:
375mg Whole Flower CBD Oil

375mg Distilled CBD Oil

200mg CBD Lotion

A holiday greeting card
Our customers say that our Distilled CBD Oil could ease anxiety during a particularly harried holiday season. The CBD lotion for dry skin will soothe your chapped hands after a morning of shoveling snow or building or making snow angels with the kids or grandkids. At the end of each day, unwind with our Whole Flower CBD Oil which has a higher level of THC than the Distilled formula, which helps you settle down in front of a cozy fire before a good night's sleep.
Speaking of sleep, Jennifer P. gave the whole flower oil 5 stars and wrote, "This product is fantastic! Within just a little over a week of taking this product, I noticed I was sleeping so much better. I totally recommend this product!"
Hemp-derived CBD oil with less than 0.3 percent of THC is legal nationwide, and Cornbread Hemp ships to all 50 states with free first class USPS shipping with orders over $99. For more on Cornbread Hemp, shop here.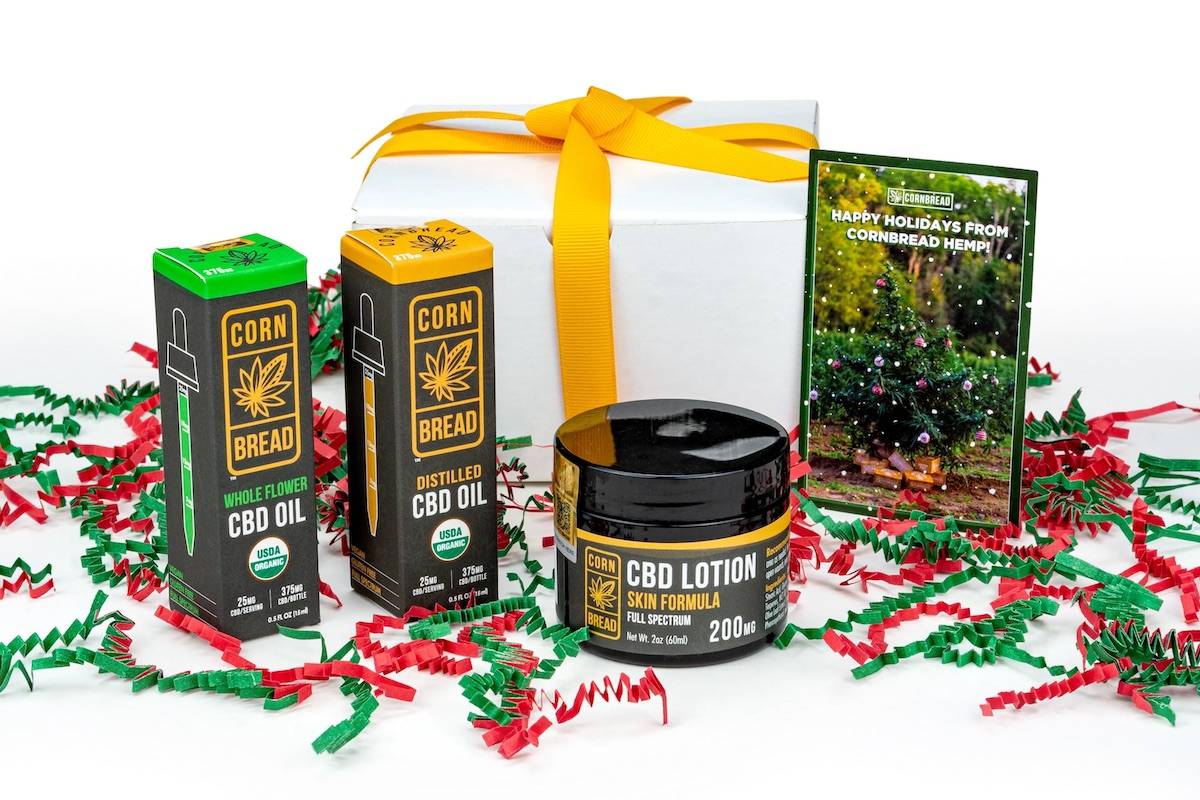 The Fruit Company: The Harvest Club Monthly Organic Fruit Club $129-$1,299

Give the gift of USDA certified organic fresh fruit delivered anywhere from three to 12 times a month in a variety of sizes. Every delivery of this natural gift is shipped free right to your recipient's door at peak ripeness. For ripeness reasons, the Fruit Company doesn't deliver on a specific day of the month; your beneficiary will receive her gift when it will arrive ready to eat. This past year's contents have included:
February 2020- Organic Pink Lady Apples

May 2020- Organic Green D'Anjou Pears

June 2020- Organic Rainier Cherries

August 2020- Organic Peaches

November 2020- Organic Fuji Apples

December 2020- Organic Comice Pears
Kat has bought the small box for a friend for a while. She gave the service 5 stars and wrote, "I have given this gift to a a friend each year for the past 5 years, and she says it is the most welcome gift she receives. The organic, 'small bite' option is perfect for one person, and she says the fruit always arrives in perfect shape and at the peak of its flavor."
For $129, The Fruit Company will ship a "classic" box once a month for three months. For $1,299, the gift will arrive monthly for 12 months in the enormous "executive" size box. This natural gift will keep your loved ones, clients or family thanking your all year long. To get organic fruit for your people, shop here.
Pact: Fair Trade & Certified Organic Cotton Pocket Robe $50

Give the gift of natural comfort! This beautiful natural gift is made from lightweight, brushed 100 percent cotton. It's the perfect companion for a night on the couch sipping wine and watching a movie or a day of working from home. It comes in three pretty colors (charcoal gray, arctic stripe and black) colors and six sizes (XS-XXL) and hits right at the knees on most wearers. This women's robe is designed for comfort—and it has pockets!
These robes are made in a certified fair-trade factory and each robe saves 66.5 gallons of water! The perfect natural gift for your eco- and socially conscious friends and loved ones. The cultivation method of the cotton doesn't use harmful inorganic pesticides and fertilizers, so there is little to no water pollution produced during production. Don't forget that you conserve water every time you choose organic.
Out of 80 reviews, this robe has 63 five-star reviews. Mickyfish wrote, "Perfect weight, not too heavy, but just the right thickness to ward off the chill in the mornings. Fit is flattering, it has POCKETS...what's not to love? Paired with the shirt and shorts, this might just be my favorite loungewear in my whole drawer!"
Women love their pockets, right!? Free shipping on any order over $50. For all Pact robes, shop here.