Cooking With CBD Oil: Holiday CBD Recipes
Cooking With CBD: Holiday Recipes
Cooking with Cornbread: Holiday Edition
Updated: Holiday Season 2021
If you've been cooking at home more because of COVID, you maybe have considered cooking with hemp oil. Perhaps you remember making pot brownies in college, and you wonder if cooking with CBD oil could be equally effective. You may also ask, "Is cooking with CBD the same as cooking with THC?"  
The answer to that question is no: the process of cooking with hemp-derived CBD oil is nothing like making pot brownies or other edibles with high THC marijuana. When making things like pot brownies, you cook ground cannabis flowers in melted butter to decarboxylate the cannabinoids. "Decarboxylate" means to break down cannabinoids, like THC and CBD, to make them available for the body to digest.
By contrast, CBD extracts have already been decarboxylated before blending them with a carrier oil to make CBD oil. In the case of Cornbread Hemp, the decarboxylated cannabinoids are suspended in high quality organic MCT coconut oil. If you think about it, CBD oil is similar to the pot-infused butter you once used to make pot brownies. (But it doesn't get you high!)
Both CBD oil and THC butter are cannabinoids infused in a fatty substance. This is why CBD oil is the perfect choice for making CBD-infused salad dressing, CBD guacamole, CBD pesto, and for use in CBD smoothies. There's no cooking needed, just add CBD oil. Or you can add CBD to completed dishes that have finished cooking, like soups, pasta sauces, even mashed potatoes.
CBD works by interacting with a network of cannabinoid receptors found all throughout the body. This network of receptors is called the "endocannabinoid system." The endocannabinoid system (ECS) works with your body to help it maintain homeostasis.
Cannabinoids found in the cannabis sativa hemp plant have been shown to have an effect on the ECS. When the full spectrum of cannabinoids from the cannabis plant, including a little bit of THC, work together on the ECS it is called the "entourage effect." CBD is different from THC because CBD only binds to receptors throughout the body, not the brain. When THC binds to receptors in the brain it causes the feeling of being high.
Most people take CBD by capsules, or gummies, topicals, or by taking the oil sublingually, but there are much more applications, like cooking with CBD oil!
The important thing to remember when cooking with CBD oil is that you shouldn't do it over an open flame or in an oven that's too hot. CBD's boiling point is about 350 degrees. If exposed to direct heat or higher temperatures, the CBD will degrade and evaporate.
But despite its delicate nature, CBD oil can be a great ingredient in fatty foods because CBD is lipophilic, which means it loves fat. When combined with a fatty food, CBD becomes more bioavailable. That means that extra fat helps make CBD easier for the body to digest.
Your best bet for cooking with CBD oil is to look for recipes that call for low heat, like our recipe for CBD oil chocolate chip banana bread muffins, or for no heat at all, like our recipe for CBD oil vanilla butter cream frosting.
How Much CBD Should I Use in My Recipe?
While CBD doesn't cause any serious harm in high doses, it is possible to have a negative experience if you take too much CBD. The best way to find your ideal CBD dosage is to make sure to start with a low dose, see how your body reacts, and then increase the dose from there.
CBD dosage can vary person to person depending on individual factors like body weight and metabolism. Many people find that 25mg of CBD per day is a good starting place for them. When cooking with CBD you have to consider that you are making a batch of multiple servings. But Cornbread Hemp's 750 mg CBD oils are 25mg per dropper, so it's easy to measure out your CBD per serving for each recipe.
What is the Best CBD Oil for Cooking?
When adding CBD oil to food, it's important to have a CBD oil that tastes good. That's because most CBD oils taste bad, and that's why producers cover up the taste with flavors like peppermint and cinnamon. At Cornbread Hemp, we never use cover flavors because we don't need to. Our Flower-Only™ extraction in organic sugarcane ethanol makes the best-tasting CBD oils in America.
Whole Flower vs Distilled USDA Organic CBD Oils
Cornbread Hemp offers two types of CBD oil: Whole Flower and Distilled. What's the difference? And which one is better for use as CBD cooking oil? Both formulas come from the same organic hemp flower extract. The difference is that the Whole Flower comes from the first pass extraction, while the Distilled goes through another distillation process, which purifies the CBD oil to a golden honey color.
Therefore, the Distilled CBD Oil has a lighter flavor than the Whole Flower, which is more robust. Both are great for cooking, it's just a matter of taste. For these CBD recipes below, we have suggested using our Distilled CBD Oil for some recipes and our Whole Flower for others. You can switch it up in any recipe using CBD oil, depending on the flavor you're going for.
Cornbread Hemp's CBD Oil Recipes
Try these recipes from the Cornbread Kitchen with our USDA certified organic CBD oils! Cornbread Hemp's high quality CBD oil is the best for cooking because they are best tasting CBD oils sold in America. Just try them with these simple holiday recipes to make the holiday season a bit more chill.
CBD-Infused Chocolate Chip Banana Bread Muffins
Somehow, banana bread became the COVID lockdown comfort food of choice for many people. By some point, our friends, family, and even the celebrities and chefs on social media (celebrities—they're just like us!), were all making banana bread.
I had never made it before, and I wasn't sure I even liked it. But I made a modified version of this recipe and discovered why people were hot on banana bread—it's comfort food. In this recipe, we amp up the "comfort" by including Cornbread Hemp's Distilled CBD oil, which has a light herbal flavor that compliments the banana. These muffins are the perfect treat for relaxing at home during long winter nights.
You thought we were going to make CBD-infused cornbread? Maybe next time. For this post, we will teach you how to make CBD-infused chocolate chip banana bread muffins with CBD-infused buttercream icing.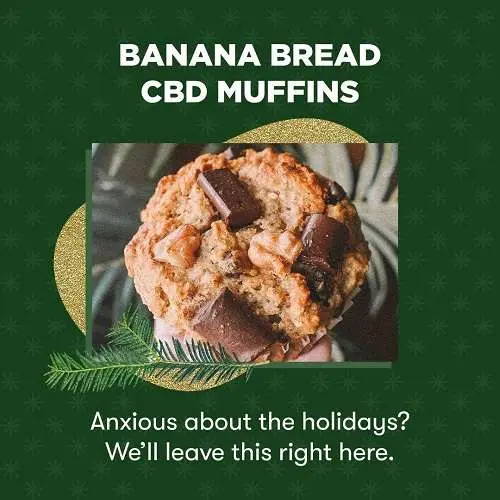 Preheat oven to 425 degrees Fahrenheit (we will reduce the heat in the oven later).

Line a 12-count muffin tin with cupcake liners.


1 1/2 cups all-purpose flour (spoon & level)

1 teaspoon baking powder

1 teaspoon baking soda

1/2 teaspoon salt

1 teaspoon ground cinnamon

1/4 teaspoon ground nutmeg

3 large ripe bananas (about 1 1/2 cups mashed)

5 Tablespoons unsalted butter, melted and cooled

6 droppers of Cornbread Hemp Distilled CBD Oil

2/3 cup packed dark brown sugar

1 large egg, at room temperature

1 teaspoon pure vanilla extract

2 Tablespoons milk (coconut milk complements the coconut oil in CBD!)

1 cup chocolate chips


Melt the butter then set it aside to let it cool down a bit. We don't want to add CBD oil to steaming hot butter because that may cause the better part of the CBD oil to degrade. Also, it could coddle the egg.

Mix together the flour, baking powder, baking soda, salt, cinnamon and nutmeg and set aside.

Mash the bananas by hand or with a stand mixer. Add the brown sugar, egg, vanilla extract and milk and combine. Whisk the CBD oil into the cooled butter then add to the mixture.

Pour the dry ingredients into the wet ingredients and beat or whisk until combined then fold in the chocolate chips.

Spoon the batter into the cupcake liners—proportion out equally. There should be enough to fill each liner.

Pop them in the oven for 5 minutes at 425F, then reduce the temperature to 350F and bake for 16-18 minutes or until you can stick a toothpick in one and it comes out clean. The tops of the muffins should be springy.

Remove from the oven and let the muffins cool in the tin for at least five minutes before transferring them to a baking rack to continue cooling.
Your muffins should last a week in the fridge, if you can keep them around that long!
CBD-Infused Vanilla Buttercream Frosting
So, the banana bread isn't sweet enough for you? Even with the bananas and brown sugar and chocolate chips? I hear you. Things are tough out there. Let's take these muffins to the next level—with added sweetness and additional CBD oil.
This step is totally optional… but live it up!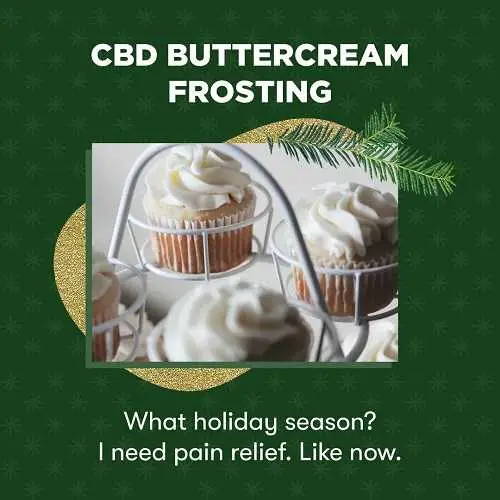 3 3/4 cups powdered sugar

1/2 cup butter

1 teaspoon pure vanilla extract

2 tablespoons milk (can use coconut milk here too!)

1 teaspoon cinnamon

2 to 3 droppers of Cornbread Hemp Whole Flower CBD Oil


Cream together the powdered sugar, butter, vanilla, and milk. Mix together until smooth (this is easiest with a mixer of some sort, but you can do it by hand and count it as a workout). If it's too thin, add more sugar. If it's too thick, add more milk a teaspoon at a time. It should be the consistency of cake frosting.

Once everything is smooth and creamy, add the cinnamon and CBD oil. Fold it in just enough so that it's mixed in.

Frost your muffins.

Maybe sprinkle the tops with a tiny bit of flaked sea salt for style points.

Enjoy!
And may your post-muffin times be nice and chill. Expect the CBD to take about an hour to enter your system to give you that relaxing effect that CBD is known for. If you get impatient that you don't "feel anything" and eat another banana bread muffin with buttercream icing (or three), you might end up feeling too relaxed.
Make sure you don't overdo it. You don't want to feel groggy in the morning. The good news is: there is a much lower risk of overdoing it on a CBD edible than overdoing it on a THC edible, which can cause a few hours of unpleasantness. When you take too much CBD oil, the worst that can happen is feeling groggy in the morning, or getting a tummy ache.
Sometimes, you just need a sweet treat right before bedtime that erases all those holiday-related worries and gets you ready for a good night's rest. That's why we went into the Cornbread Kitchen and whipped up our Cornbread Hemp CBD Bedtime Snowballs™. As an added bonus, this recipe is vegan friendly and gluten free.
Each snowball contains 25 mg of Cornbread Hemp's Whole Flower CBD Oil. If you'd like a stronger snowball, you can substitute our extra-strength Whole Flower CBD Oil, which would give each snowball 50 mg of CBD and 2 mg of hemp-derived THC for a very good night's sleep, indeed. Here's what you need to make Cornbread Hemp's Bedtime Snowballs™.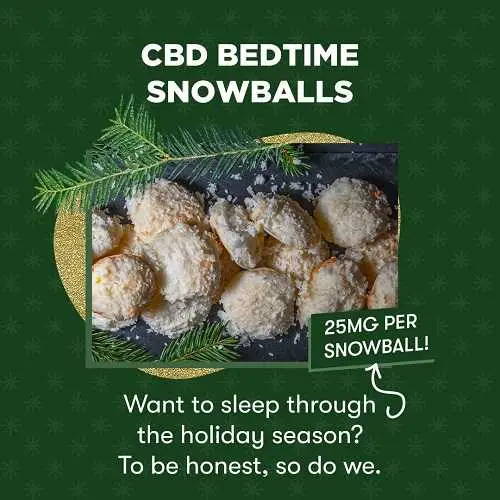 3/4 cup macadamia nuts, roasted and salted

1/2 tablespoon coconut oil, melted

Up to 12 full droppers of Cornbread Hemp Whole Flower CBD Oil. For 12 servings, that will be 25 mg per snowball.

1/3 cup almond flour

1/3 cup unsweetened shredded coconut

1/2 teaspoon ground cinnamon

1 teaspoon vanilla extract

1/4 cup chocolate chips (mini dark chocolate chips, if you can find them)

1/4 cup powdered sugar


Put the macadamia nuts into a blender until they turn into a thick paste.

Add the CBD oil and coconut oil. Process in the blender until the macadamia nut butter becomes smooth. This could require a little more oil to get the right consistency. You can add more coconut oil for this, or hey — more CBD oil.

Combine the macadamia nut butter, almond flour, shredded coconut, cinnamon, and vanilla extract in a large bowl. Mix by hand until the mixture gets to the consistency of cookie dough.

Taste the dough. Is it sweet enough for you? If not, you can add a little sugar. (But not too much, because there's powdered sugar coming later!)

Fold in the mini dark chocolate chips. Start with half of the 1/4 cup and add more as needed to distribute evenly in the dough.

Using a tablespoon, scoop out a ball of dough and roll it into a small ball. Repeat until you get 12 servings.

Dust the dozen balls with powdered sugar until they are covered. And that's how you make Cornbread Hemp's CBD Bedtime Snowballs™.
These nighttime treats will be good for a week if stored in the refrigerator in an airtight container. Or, you can put them in the freezer for a month. But let's be honest: these snowballs are not likely to last a month. They're too good!
Cooking with CBD Oil: Conclusions
And that's how you cook with CBD oil. The important things to keep in mind are:
Use a CBD oil that tastes good, like Cornbread Hemp

Choose Distilled CBD Oil for a light flavor, or Whole Flower for robust flavor

Don't cook CBD oil above 350 degrees Fahrenheit

Enjoy at home!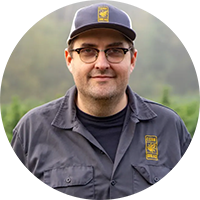 About the Author
Jim Higdon, Co-founder
a native of Lebanon, Kentucky. He holds degrees from Centre College, Brown University, and Columbia University's Graduate School of Journalism. Jim published Cornbread Mafia in 2012, full author bio here.
How hot can you heat CBD without it degrading?
You should not heat CBD hotter than 350 degrees. It will start to degrade at higher temperatures.
Why does CBD pair well with fatty foods?
Despite its delicate nature, CBD oil can be a great ingredient in fatty foods because CBD is lipophilic, which means it loves fat. When combined with a fatty food, CBD becomes more bioavailable. That means that extra fat helps make CBD easier for the body to digest.
What are some ways to eat your CBD?
No-cook options include: CBD-infused salad dressing, CBD guacamole, CBD pesto, CBD smoothies
Cook options: CBD butter, add CBD to already made food, low-temp baking and cooking
---